During a recent walk through my neighbourhood, I took this photo: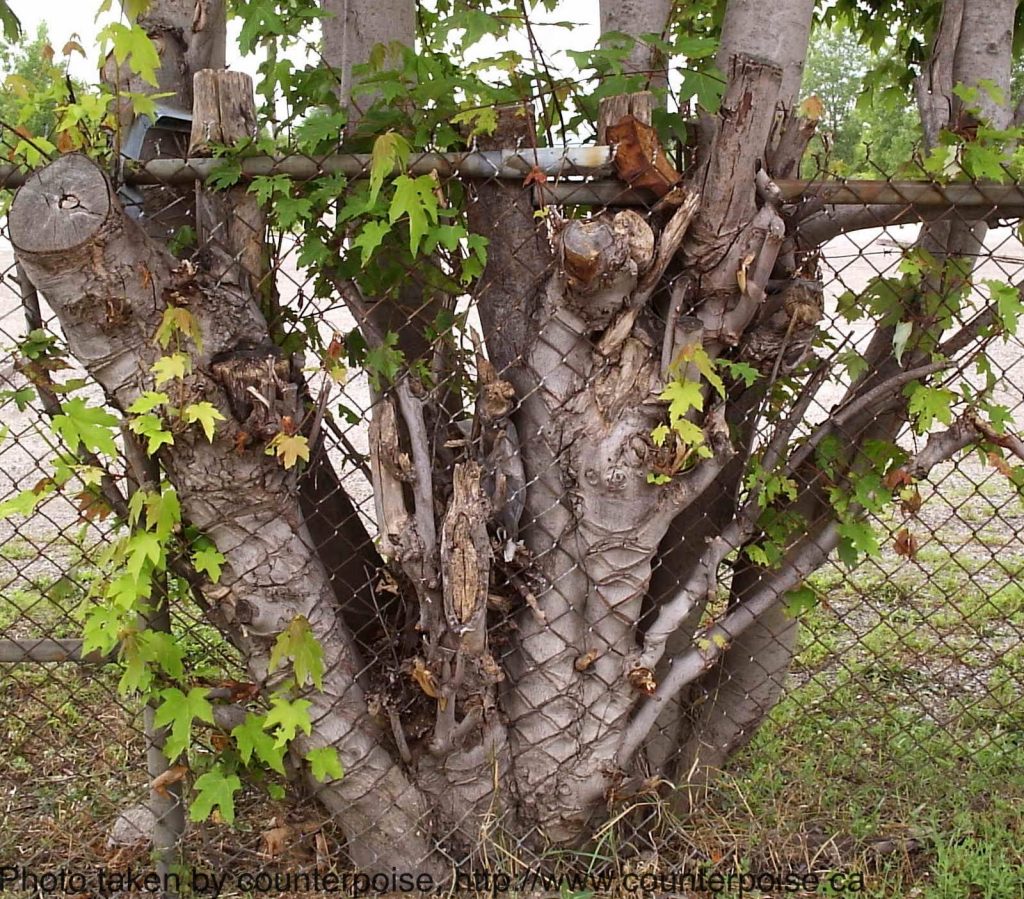 It shows the bottom part of a tree that has grown up on both sides of a fence. As you can see, the trunks have determinedly tried to break through the fence, but with minimal success. In fact, a number of the branches have been sawed off. The trunks of the same tree on the other side of the fence are growing at an angle, almost like they're trying to avoid the other side's conundrum.
To me, the trunks encased in the fence represent what I consider to be the unreasonable resistance put forward by aboriginal sovereignty advocates who want to separate from Canada. The trunks on the "free" side represent (to me) those natives who want to remain part of Canadian society, either as collectives on reserves, or as individuals or collectives in the urban setting. I remain firmly on the side of those aboriginals who agree that maintaining their Canadian citizenship is a good thing. As I have stated in my previous posts, particularly my "Violence Against Aboriginal Women" and my "Clans and Tribes in the 21st Century" posts, I am very much aware of the many injustices committed against aboriginals over the centuries, but I do not believe that aboriginal sovereignty is a viable or practical solution.
To help bolster my argument, I will be drawing on the work of Alan C. Cairns. He is a University of Waterloo (Ontario) political science professor emeritus who has written two thought-provoking books on aboriginal policy: Citizens Plus (2000) and First Nations and the Canadian State (2005). Both works are highly regarded by many of the people who have read them, although a few aboriginals took exception to some of his conclusions. Nevertheless, the back cover of his Citizens Plus includes an endorsement by Metis historian Olive Patricia Dickason (1920-2011). Suzanne Methot, a Cree writer and editor, also had complimentary things to say about the book in her review for Quill and Quire, March 2000.
The seeds for Cairns's aboriginal views were planted in the 1960s. At that time, he was a senior researcher for an inquiry the federal government held into the Indian situation in Canada. (Indians are aboriginals who are registered as Status Indians under the terms of the Indian Act. Status Indians are also sometimes referred to as legal Indians.) H.B. Hawthorn led the inquiry, and the final report, published in 1966, was widely referred to as the Hawthorn Report. The term "citizens plus" was used in this report to convey the view that Indians were Canadian citizens who had additional rights.
However, the federal government did not follow through on the findings of the Hawthorn Report. Instead, the Trudeau government issued the 1969 White Paper which advocated assimilation of aboriginals into Canadian society. This paper was widely rejected by many of the country's aboriginal leaders. Some of these leaders felt the government should instead implement the Hawthorn Report's recommendation that the federal government's Indian Affairs Branch maintain a national role for the country's Indians. In response to the White Paper, the Indian Chiefs of Alberta issued Citizens Plus (the title employing the same term used by the Hawthorn Commission). As Cairns points out, Citizens Plus (a.k.a. the Red Paper) and other documents put out by aboriginal groups at that time did not recommend that natives separate from Canada. The aboriginals writing these documents clearly saw their people as part of the country's mosaic.
But from the mid-1970s onwards, more and more native groups started to declare themselves as nations. For example, in 1975, five aboriginal tribes in the Northwest Territories issued the Dene Declaration, in which they proclaimed to the world that they were a nation. Then in 1978, the organization changed its name from the Indian Brotherhood of the Northwest Territories to the Dene Nation. In 1982, the National Indian Brotherhood, which represents the country's first nations, changed its name to the Assembly of First Nations (AFN). Numerous reserves also added "First Nation" to their names. In addition, many Inuit and Metis groups started referring to themselves as nations. Cairns is correct in observing that the use of the term "nation" has contributed substantially to a change in the way aboriginal and non-aboriginal people discuss their relationship.
In 1987, the federal government failed to win aboriginal approval for the Meech Lake Accord. Then in 1990, a land dispute arose between the Mohawk community of Kanesatake and Oka, Quebec. The Oka crisis lasted for 78 days and resulted in the death of a non-native officer named SQ Corporal Marcel Lemay. Mainly as a result of these two developments, the federal government created the Royal Commission on Aboriginal Peoples (RCAP). RCAP's mandate was to investigate the situation of Canada's aboriginal people and to make recommendations. The commission started its work in 1991 and released its final report in 1996. It advocated parallelism, i.e., aboriginals should form a third order of government separate from the non-aboriginal society. Cairns does not agree with the parallelism model proposed by the $58 million commission, and neither do I. As he points out, the RCAP Report spent very little time addressing the concerns of the high percentage of aboriginals living off reserves. It also did not take into account the high rate of intermarriage with non-aboriginals, or the fact that a third of the country's aboriginals do not identify themselves as such in the federal census.
The government's 1997 response to the RCAP Report was entitled Gathering Strength: Canada's Aboriginal Action Plan. Although this action plan acknowledged certain contentious issues addressed in RCAP's recommendations, e.g., the ones relating to the residential schools, it sidestepped endorsement of most of them. Cairns thinks it is a shame that the government did not do more to encourage debate regarding the Report, calling the government's response "an embarrassment." Cairns and I both agree that the parallelism recommendations should not have been acted upon, but we also concur that allowing the RCAP Report to gather dust so quickly was not a good idea either.
Cairns argues there should be a return to the "citizens plus" model, where natives maintain their rights, but also retain their Canadian citizenship. I agree with his position, but with the following caveat: that any rights maintained should be ones that are not going to damage aboriginals or non-aboriginals. In other words, I recommend that there be a selective retention of rights.
Cairns is correct in arguing that both assimilation and parallelism are unacceptable. I agree with him that a middle ground needs to be struck between both extremes, but instead of calling the model "citizens plus," I call it integration.
Here is a photo I took recently at a park near my home: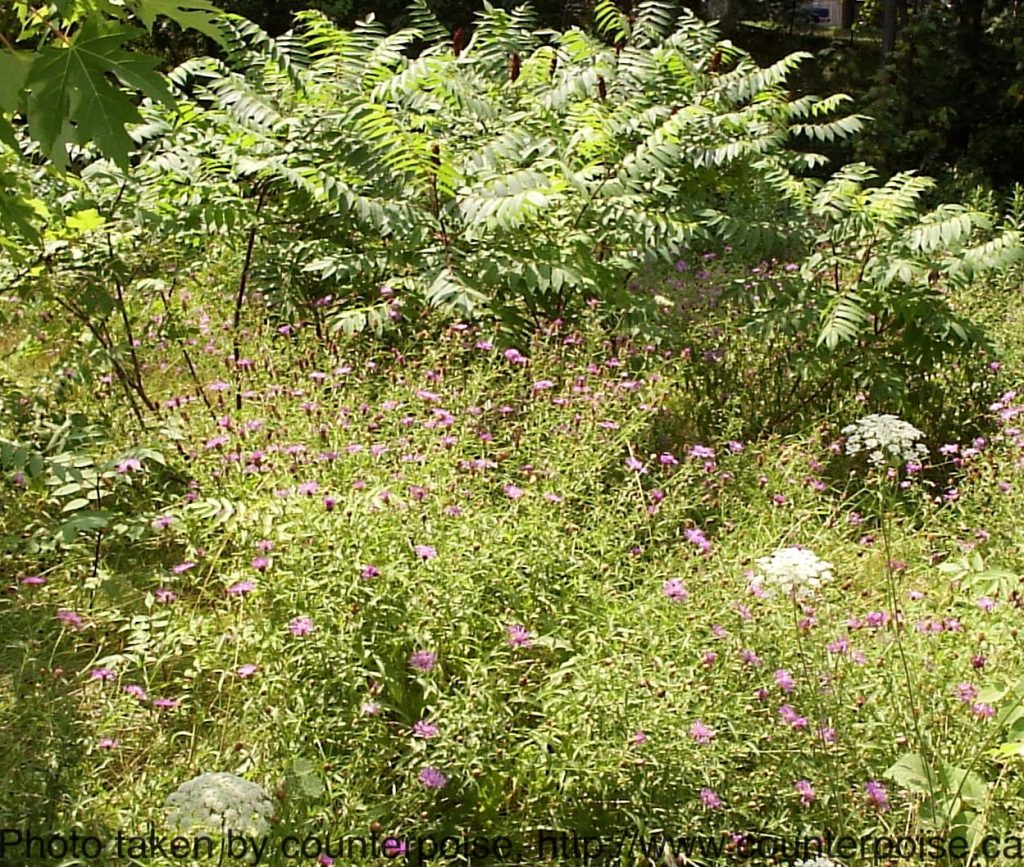 This is my view of what integration could look like. To me, assimilation is like a garden salad: only good for a short period of time. Parallelism is like a heavily manicured flower bed that is nice to look at, but a lot of work to maintain (plus it only presents the gardener's aesthetic point of view). Integration allows the flora to do their own thing, but the result is still an intriguing cultural mosaic.
Notes
1. Statistics Canada reported that, in the 2006 census, 60 per cent of first nations people lived off reserve. They count both Status and Non-Status Indians in their first nations statistics. Twenty-two reserves did not participate in this census.
According to a CBC News article, June 12, 2010, 73.7 per cent of Canadian aboriginals (including Metis and Inuit) do not live on reserves and 72.1 per cent of those living off reserve reside in urban areas (based on the 2006 census).
2. I think there needs to be a careful review of some traditional cultural practices relating to bad medicine, the negative treatment of women and violence. I stress that many aboriginals do not practise bad medicine, treat their women badly or engage in violence, but some do. I have already covered this issue in my "Violence Against Aboriginal Women" and my "Clans and Tribes in the 21st Century" posts.
Additional Sources of Information
"Bridging the Divide Between Aboriginal Canadians and the Canadian State," Centre for Research and Information on Canada, June 2001. Web. August 3, 2011 <http://www.library.carleton.ca>. Contains critiques and discussions of Cairns's Citizens Plus book by seven people, including Mohawk Patricia Monture-Angus (d. 2010) who was originally from Six Nations.
Gibson, Gordon. A New Look at Canadian Indian Policy. Calgary: Fraser Institute, 2009. Gibson devotes part of a chapter to Cairns's Citizens Plus.
Turner, Dale. This is Not a Peace Pipe. Toronto: Univ. of Toronto Press, 2006. Turner is originally from the Temagami First Nation in Northern Ontario. Book includes a chapter critiquing Cairns's Citizens Plus. Turner believes in the parallelism model, although he has concerns about the RCAP Report.