Note One: My brother Don Peterson's poem is included with permission.  Patrick Donoahue gave me the go-ahead to give credit to his image restoration services.  In addition, the executors of the James Reaney/Colleen Thibaudeau Reaney estate said it was fine for me to mention that the Reaneys liked Don's poem.  I also got the green light from Jean McKay and Louise Fagan.
Note Two: Around 2014, I instituted a policy regarding both my blogs that I do not include links to other people's websites or blogs on mine.  Consequently, you find information on how to locate the links, but not hyperlinks.  Further clarification can usually be found in the bibliography.
Images Included With This Post
In the mid-2000s, a relative mailed me some family slides that had been in the possession of someone he knew for many years.  The majority of the images cover activity in the Peterson family household from the early 1950s to the early 1970s.  They had not been stored properly and are consequently in poor condition.  Fortunately, Patrick Donoahue of London Image Editing and Photo Scanning (www.londonimagescanning.com) was able to restore the images included here, to some of their original quality.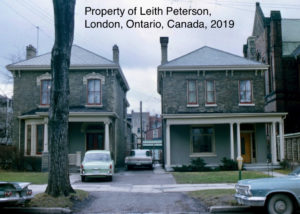 283 (left) and 281 (right) Dufferin Avenue, 1966
Introductory Comments Regarding Excerpts from "Jingles About Our House" Poem
This post contain excerpts from my brother, Don Peterson's, poem "Jingles About Our House," which he wrote 1971-1972 while in Grade 8 at Lorne Avenue Public School in London, Ontario, Canada.  These introductory comments are meant to help you better understand the poem.
From the early 1950s to the early 1970s, my family lived at 283 Dufferin Avenue in London.  Don's poem explores, often humorously, what life was like in our unusual household.  My father, Charles T. Peterson (1913-2007) was a periodontist (gum specialist).  My mother Jay Peterson (1920-1976) was an artist and cultural activist involved with many London community groups.  For further information about my parents, click on the "Charles T. Peterson" and "Jay Peterson" labels in the right sidebar.
I was/am the oldest child, followed by Stu, Chris (1954-2009) and Don.  For more information about my brothers, you can click on the "Stu Peterson," "Chris Peterson," and "Don Peterson" labels in the right sidebar.
My father's periodontal office was next door at 281 Dufferin.  To the west of his office was/is Metropolitan United Church.  And further west on Dufferin, across the Wellington Street intersection, was/is the London Life Insurance Company.  The cenotaph mentioned in Don's poem is located in Victoria Park, which is across the street from London Life.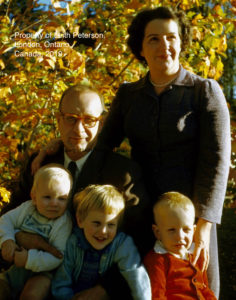 Chris, Charles T., Leith, Jay and Stu Peterson, ca. 1956
The "catwoman" lived on Picton Street, the first parallel street running east of our former Dufferin home.
On September 22, 1971, the "new" city hall officially opened at 300 Dufferin, across the street from our home.  The reference to the "city pile" in the first stanza probably refers to the debris from the city hall's construction.
My brothers Stu and Chris Peterson played in rock bands, so there were constant jam sessions in the "back room" of 283.  The music frequently bothered the Metropolitan United Church sexton's spouse, whose home was not far from the back room.
Don's reference to my father sometimes being a problem to the mayor will be discussed in the "Tin God Versus Maple" section below.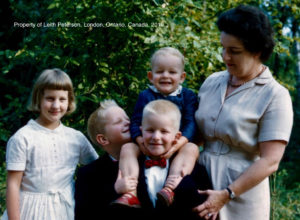 Leith, Stu, Chris, Don and Jay Peterson 1961
Excerpts from Don Peterson's "Jingles About Our House," 1971-1972
Our house in Tuscan Bracket style,
Now stands before the city pile,
The cenotaph is across the way,
Where parades seem to pass every day.
Victoria Park, early and late
Where people walk and soon will skate.
Our bushes turn brown,
When dogs come around,
And people walk them up and down.
When London Life gets out at 4,
Traffic is blocked outside our door.
Metropolitan means many things to me
With all sorts of personalities.
. . .
Rock music coming from our house
Gives a headache to the sexton's spouse.
. . .
Our rock band used to cause noise pollution,
But egg crate cartons have been the solution.
. . .
The catwoman lives around on Picton,
And rattles her dish to bring the cats in.
At 12 o'clock every night,
The city trash truck
Appears on site,
It gobbles up garbage at city hall
And the noise it makes wakes one and all.
Inside our house, from end to end,
Primitive, oriental and modern blend.
Our towering ceilings, ten feet high,
Makes life easier, with space to fly.
There's beautiful sculpture on our living room ceiling,
With pears and grapes and banana peelings,
When I lie on the living room floor
I can see this sculpture more and more,
Some artisan of 100 years past
Must have made this out of plaster cast.
We don't have the cleanest floors
Because too many people walk through our doors,
From the boys in the back,
To our friends in the front,
Privacy is almost completely out.
Our long, slim windows let in lots of sun
Unless we keep our curtains drawn.
Pottery, masks, fossils and shells,
Brasses, wrought iron, shivas and bells,
Batiks, tapestries, quilts and flags,
Horse hair, crushed velvet and itchy straw shag.
A Scottish friend says:
The English Ivy brings bad luck,
So with philodendrons we are stuck.
Our kitchen is a vertical pen,
Meant for two, but usually has ten.
There are pockets of people everywhere,
Playing rock, Chopin or solitaire.
Folding origami or knotting macrame,
Hooking rugs and oil painting,
Typing, sleeping and contemplating.
Sprouting mung, alfalfa and wheat,
Provides food more nutritious than meat.
Banjos and lutes,
Autoharps and flutes,
Tubas and basses fill all the spaces.
The smells of our house,
Are really something else,
From Arrid Extra Dry
To Chanel No. 5
And fresh baked bread,
To the fragrant Lemon Pledge.
Down the drain the water runs,
It goes down until there's none,
Where it goes you cannot tell,
But you would think it was jet-propelled.
. . .
With father's office right next door,
Our life at home is never a bore,
He's either jolly or like a bear,
And sometimes a problem to the mayor.
Across the street, thirteen stories high,
There the big new city hall lies,
Behind a square of engraved initials,
Of all the city's big officials.
Our house is a home as you can see,
Our family members are different as can be,
We fight a bit,
But we've learned to give,
Our place is home where we all live.
Copyright © 1971-2019, by Don Peterson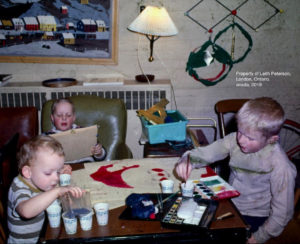 Don, Stu and Chris Peterson, 1961
Further Information About Don's Poem
Family friends and poets, James Reaney (1926-2008) and Colleen Thibaudeau Reaney (1925-2012), liked this poem so much they asked me to ask Don if they could have a copy.  Don agreed, so I gave it to the Reaneys around 1991.
On May 27, 2007, London writer, Jean McKay, who was a friend of my late mother's, read Don's poem.  This was at a celebration of my parents' lives in Proudfoot Hall at First-St. Andrew's United Church in London.  The event also included binders of archival material and display boards full of photos.  Family, friends and associates joined McKay in providing additional readings.  The approximately 53 people who attended gave me lots of positive feedback on what transpired.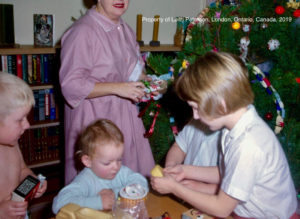 Chris, Don, Jay, Stu (hidden) and Leith Peterson, 1961
"Tin God Versus Maple" Reading, May 30, 2007
Three days after the celebration of my parents' lives, I was pleased to be among five women writers/storytellers who read for a literary evening fundraiser.  This London event, hosted by producer Louise Fagan, was part of the In Good Company festival.  This inaugural festival showcased works by women in the arts.
My contribution was "Tin God Versus Maple," which discussed events before, during and after my father's 1970 tree-cutting protest.  Fortunately, the Ivey Family London Room at the London Public Library had a news clipping file which included the London Free Press coverage of this dustup.  Citations for many of the articles I found in the London Room can be found in the bibliography.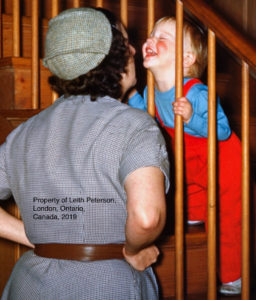 Leith using her mother's lipstick as face paint does not go over well, ca. 1955
Below is a synopsis of the "Tin God Versus Maple" story.
In the spring of 1970, the City of London decided to cut down the trees in front of our former home and my father's office, because they wanted to widen the street.  This was because the "new" city hall was in the process of being built.  But my father told the media and the mayor he would stand his four children in front of the trees rather than have them cut down.  He did not tell me about this ahead of time, but I will leave that saga for another day.
The furor all started when the Public Utilities Commission (P.U.C.) put red X's on all the trees on both the city hall side, and the south side of the street, where we lived.
Then, in the wee hours of the morning, a "mystery painter" covered up the red X's on the trees with black paint.  A London Free Press reporter spotted this individual and asked him if he worked for the city.  The painter said he did not.  As the reporter went to his car to get his camera, the painter left the scene.
Editorials and letters to the editor were almost all sympathetic towards the plight of the trees.  Edith M. Atkins complained that too much emphasis was being placed on catering to "that almighty tin god, the automobile."
But the protests failed to dissuade the majority of city council.  In fact, it seemed to make them all the more determined.  Council agreed to a week's reprieve, but when the week was up, 14 P.U.C. workmen and a foreman showed up at 6:00 a.m., with five vehicles and their saws at the ready.  Sixteen protesters were waiting for them.
The P.U.C. crew got to work, despite the dissenters' objections.  But the foreman told the workmen to stop after numerous residents phoned in noise complaints.  When Mayor McClure and Alderman Fred Underhill arrived, shortly after 7:30 a.m., they found my father serving coffee and doughnuts to those present.
More altercations and sawing ensued, with the final score being four trees cut down, one severely damaged, and one with a few limbs cut off.  In the end, the rest of the trees were cut down because they were showing signs of decay and would die in a few years anyway.
By 1974, members of the Peterson family had relocated either to other parts of the city or to other parts of the country.  However, my father rented out 283 and ran his practice until about 1977.
Then, around 1978, both our former family home and my father's office were torn down.  Where they once stood is now the Metropolitan United Church parking lot.  Just in front of the parking lot is a semicircle of grass on which two linden trees stand, side by side.  Rumour has it that they were planted by the city around the time the buildings were torn down, as a sort of compromise.  They are certainly not as tall as the great maples that shaded the south side of the street for many years.  But when a family friend jogs by, he gives a boy scout salute to what he considers to be living memorials to Jay and Charles Peterson.
Leith, Don, Chris and Stu Peterson, 1962
Afterthoughts
Kudos to my brother Don for giving me permission to include excerpts from his poem.  It documents 20 years of extraordinary activity in front of London's city hall.  Yes, many neighbours were glad when we left, and peace was restored to the area.  But numerous family friends and associates enjoy relating humorous anecdotes about the "fun times" at 283.
In her October 18, 2018 post, entitled "In Good Company," Louise Fagan said that conversations from In Good Company were "still part of the public conscience."  I consider my retelling of my 2007 "Tin God Versus Maple" saga part of this ongoing conversation.  Kudos to Louise for providing a forum for my unconventional London story.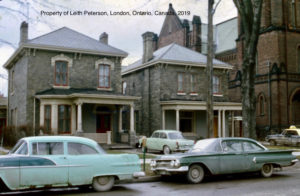 283 (left) and 281 (right) Dufferin Avenue, 1966
Bibliography
Atkins, E. M. (1970, April 28).  Departed trees [letter to editor].  London Free Press.
Atkins, E. M. (1970, April 29).  Let's save the maples around city hall [letter to editor].  London Free Press.
Etherington, J.  (1970, April 30).  Tree-cutting ends in saw-off, mayor yields in face of protest.  London Free Press.
Fagan, L.  (2018, October 18).  In Good Company.  Retrieved from Louise Fagan: the Principal Collective: https://louisefagan.com
Ivey Family London Room, London Public Library (2019).  City Hall at Dundas and Wellington. . .  Retrieved July 12, 2019 from http://images.ourontario.ca/london
London Free Press.  (1970, May 1).  'Life people' to study tree-cutting policy.  London Free Press.
London Free Press.  (1970, May 1).  More trees doomed [editorial].  London Free Press.
London Free Press.  (1970, April 27).  Must the trees always fall? [editorial].  London Free Press.
London Free Press.   (1970, April 27?).  Mystery painter out to save trees.  London Free Press.
London Free Press.  (1970, April 2).  Picketing threat by periodontist gains week's reprieve for trees.  London Free Press.
London Free Press.  (1970, May 9).  Preserving the forest city [editorial].  London Free Press.
London Free Press.  (1970, May 2).  Save-trees forces lose city hall fight.  London Free Press.
London Free Press.  (1970, April 22).  Says public supporting tree fight.  London Free Press.
London Free Press.  (1970, May 5).  Tree replacement policy proposed.  London Free Press.
London Free Press.  (1970, May 1?).  Trees bring mayor, kin threats.  London Free Press.
London Free Press.  (1970, June 25).  Youth's protest costs city $343.  London Free Press.
London Free Press.  (1970, April 30?).  [Looking east on Dufferin Avenue] [photo with caption].  London Free Press.
London Free Press.  (1970, May 4).  McClure's career said hurt by trees.  London Free Press.
London Image Editing and Photo Scanning.  (2019).  Images, the Internet & Search Engine Optimization.  Retrieved July 15, 2019 from http://londonimagescanning.com
Peterson, C. T.  (1970, April 25).  Must plan to protect quality of the environment [letter to editor].  London Free Press.
Peterson, D.  (1971-1972).  Jingles About Our House [unpublished].
Peterson, L. (2007, May 30.  Tin God Versus Maple [unpublished].
Wikipedia.  (2019, June 7).  Louise Fagan.  Retrieved from Wikipedia: https://en.wikipedia.org