Disclaimer: My references to other people, including their written works, does not in any way imply that they share my views on this matter. The opinions expressed here are my own and do not necessarily reflect those of my family, friends or associates.
Acknowledgements: Thanks goes first to my mother Jessie (Jay) Royce (nee Fleming) Peterson (1920-1976) whose files on my Royce relatives first sparked my interest. Then kudos to my cousin Florence (nee Wright) Metcalfe (1910-2012) who, in the early 1990s, sent me documents that further enlightened me about my Royce ancestry. I am particularly grateful to Metcalfe for sending me a 1988 family tree prepared by Malcolm MacKinnon. I am also indebted to Metcalfe's daughter, Jean Kirkham, who, from 2006 onwards, has provided additional information. My brother, Donald Royce Peterson, made me aware of Jean Royce (1904-1982) and her accomplishments. Sandy Johansen read a draft of my memoir and recommended I expand on what I had to say about my Royce relatives. Flora Forbes's research regarding my great-great aunt "Frontier Lady" Sarah Royce (1819-1891) led to my locating sources I had not previously been aware of.
Introduction
My mother Jessie (Jay) Royce (nee Fleming) Peterson (1920-1976) often spoke about how proud she was of her cousin Marion Royce (1901-1987). However, I did not examine my mother's files on Marion and my other Royce relatives until the early 1990s. This was when my cousin Florence (nee Wright) Metcalfe (1910-2012) sent me additional information that made me realize my Royce lineage was worth further study.
At the time I got Metcalfe's documents, I was busy with academic and work matters. Consequently, I did not have much time to read what Metcalfe had sent. Nevertheless, I did add some information about my Royce relatives into my memoir that I have been working on since 1997.
Fast forward to August 2021, when Sandy Johansen recommended I expand on what I had to say about my Royce relatives in my memoir draft. Consequently, I pulled out all the files I had accumulated over the years and started to pursue this topic in more depth.
A bonus to re-examining these files is that one of the subject areas fits into a theme I want to expand on in my memoir. This theme is the approach that family members have taken towards Indigenous issues. Since I have written accounts regarding my great-great aunt Sarah Royce (1819-1891), my mother (1920-1976) and me, these are the ones I want to focus on in terms of my research. I know that other relatives likely had a connection with Indigenous issues as well, but I do not have their written records.
Overview of My Royce Ancestry
Below is an abbreviated version of my family tree, which I hope will make you understand better what I say below.​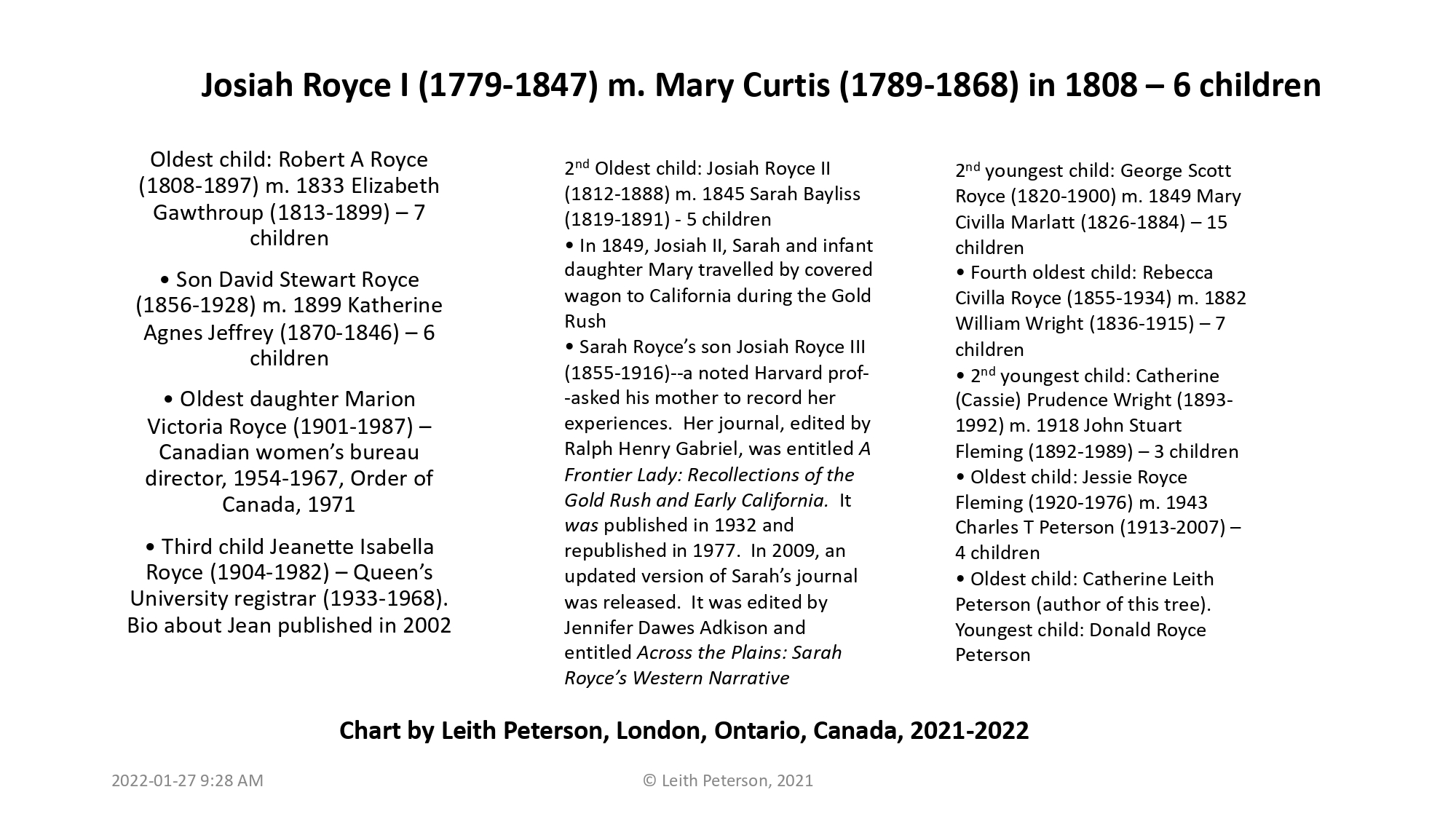 Royce Family Tree, by Leith Peterson, 2021
My mother's middle name was Royce, as is my brother Don Peterson's. This name originates with my mother's mother's side of the family. My grandmother Fleming's maiden name was Wright and her mother's maiden name was Royce. I can understand why the latter name has been passed down because some of the Royces were noteworthy people of considerable accomplishment.
Josiah Royce I (1779-1847) and his wife Mary Curtis (1789-1868) were my maternal great-great-great grandparents. They immigrated from Ridlington, in Rutland, the smallest of England's shires, to Dundas, Upper Canada, in 1816.
Sarah Royce (1819-1891)
In 1845, their second oldest child, Josiah Royce II (1812-1888) married Sarah Bayliss (1819-1891). In 1849, the couple travelled by covered wagon with their young daughter Mary to California during the Gold Rush. Sarah kept a journal of her experiences. Her edited account was published in 1932 by Yale University Press under the title A Frontier Lady. In 1977, it was republished under the same title by the University of Nebraska Press.
In 2009, an updated version of Sarah's journals was released and is entitled Across the Plains: Sarah Royce's Western Narrative. It was edited by Jennifer Dawes Adkison and published by the University of Arizona Press. Portions of Sarah's journals that were not included in the 1977 version are in this one.
Sarah's husband Josiah Royce II was a member of the Disciples of Christ, but Sarah alternated between this religion and the Congregationalist Church. One of the two main themes of her journal narrative was the need to adhere to one's spiritual faith and values. The second was that economic mobility was often essential for advancement.
After completing her own formal schooling, Sarah became a teacher both in the public system and at home.
It was Sarah's son Josiah Royce III (1855-1916) who asked his mother to keep the journal. Josiah III, who became a noted Harvard Philosophy professor, wanted his mother's account to bolster his personal views on religion and politics. This factor has led some observers to debate whether Sarah deliberately created a mythical Western narrative or if she shared her son's perspective. I have only skimmed her journal so have not come to my own conclusion about this debate.
What I have surmised from my reading of her journal is that she had mixed views about the Indigenous people she encountered during her trek through California. She expressed many of the colonial assessments of her day. But she also recognized Indigenous peoples' individual traits, e.g., they differed amongst themselves regarding how to deal with Non-Indigenous people. Even though many of Sarah's views about the original inhabitants would not be considered acceptable today, her first-hand account of her Gold Rush journey provides insights into how pioneers like herself dealt with the many challenges they faced along the way, e.g., poor weather, lack of food and inadequate or non-existent housing.
Marion Royce (1901-1987) and Jean Royce (1904-1982)
Sarah's husband's oldest brother Robert A Royce (1808-1887) was the great-grandfather of two other noteworthy Royce ancestors. In 1899, Robert's grandson David Stewart Royce (1856-1928) married Katherine Agnes Jeffrey (1870-1946) and they had four children. The Royce/Jeffrey family in St. Thomas, Ontario were members of the Church of Christ (Disciples), which was an American version of the Scottish Baptist church. The family were poor and working-class.
Marion Royce (1901-1987) was the oldest offspring in the Royce/Jeffrey household. Her employment with the All-Canada Committee for the Disciples of Christ was her first foray at the national level. She also worked with the Young Women's Christian Association in Geneva. In 1954, she became the first Canadian Women's Bureau director, and remained in this position until 1967.
Catherine Briggs's 2001 PhD History thesis about the Canadian Women's Bureau included information about Marion. Briggs said this bureau helped clarify that more equality was needed in women's employment. This concept contributed to working women's equity legislation.
After Marion left the bureau in 1967, she was recognized several times for her contributions to women's rights and adult education. In 1971, she was awarded the Service Medal of the Order of Canada.
Marion's younger sister Jean Royce (1904-1982) was also instrumental in advancing the cause of women. This was when she was the longest-serving registrar of Queen's University (1933-1968). Jean helped make the institution far less male Protestant and English-Canadian-oriented. Her forced retirement almost drove her to suicide.
Her confidence was renewed, however, when she was elected president of the alumni Board of Trustees. While in this position, she played an important role in advancing women's educational prospects.
Jean Royce Hall at Queen's University is named after her.
In 1981, my brother Donald Royce Peterson graduated from Queen's with a General B.A. He has been aware of Jean's accomplishments for many years.
Roberta Hamilton, a Queen's University Sociology professor emerita, wrote a book about Jean, which was published in 2002. It is entitled Setting the Agenda: Jean Royce and the Shaping of Queen's University. I have learned more about Marion and Jean's poor working-class roots in St. Thomas from reading this biography.
My Connection to the Royce/Curtis Family Tree
My connection to the Josiah Royce I and Mary Curtis line is through my great-great grandfather George Scott Royce (1820-1900), who was their second youngest child. In 1849, George married Mary Civilla Marlatt (1826-1884). Rebecca Civilla Royce (1855-1934) was the fourth oldest of their 15 children, and my great-grandmother.
Below is an undated photo of Rebecca (nee Royce) Wright, which my cousin Florence Metcalfe provided me with in September 1991: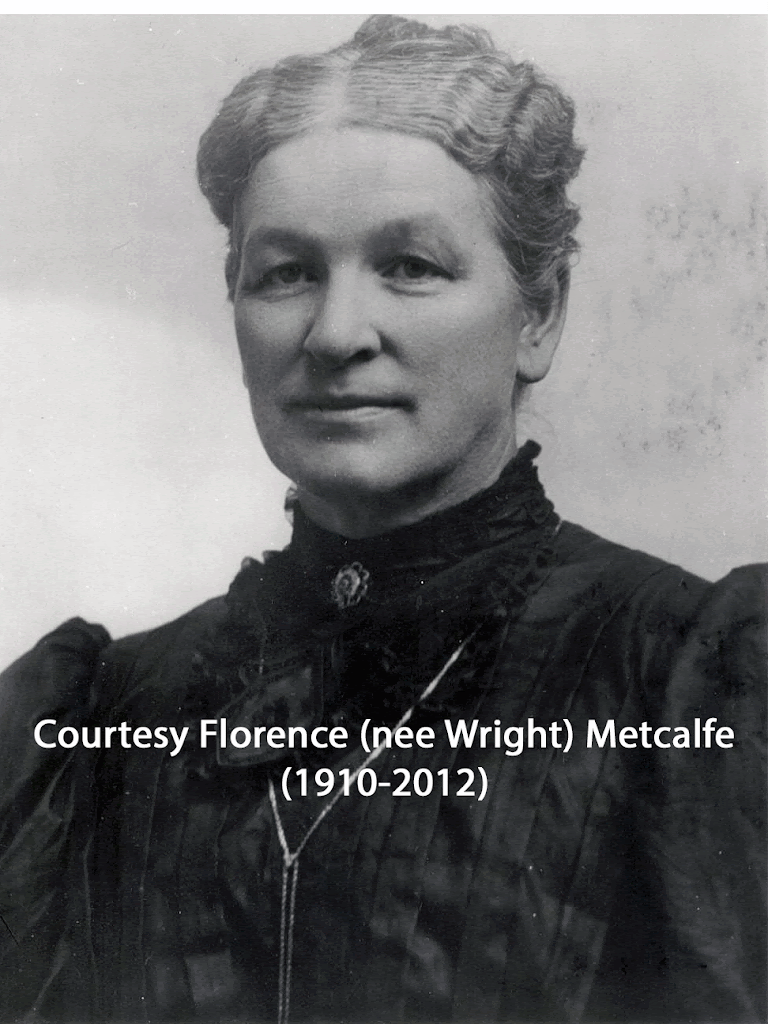 Rebecca (nee Royce) Wright 1855-1934
In 1882, Rebecca married William Wright (1836-1915).
Below is an undated photo of William Wright, which my cousin Florence Metcalfe provided me with in September 1991: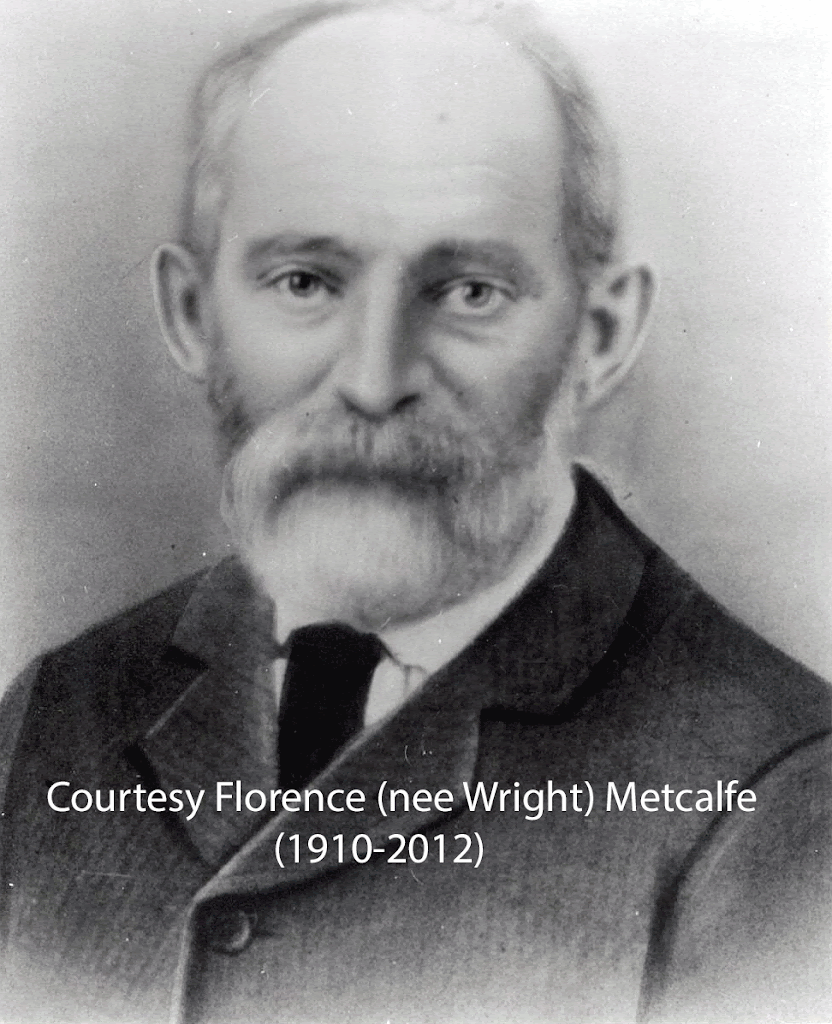 William Wright, 1836-1915
Below is the note that Metcalfe wrote on the back of one of the photos she mailed to me in September 1991: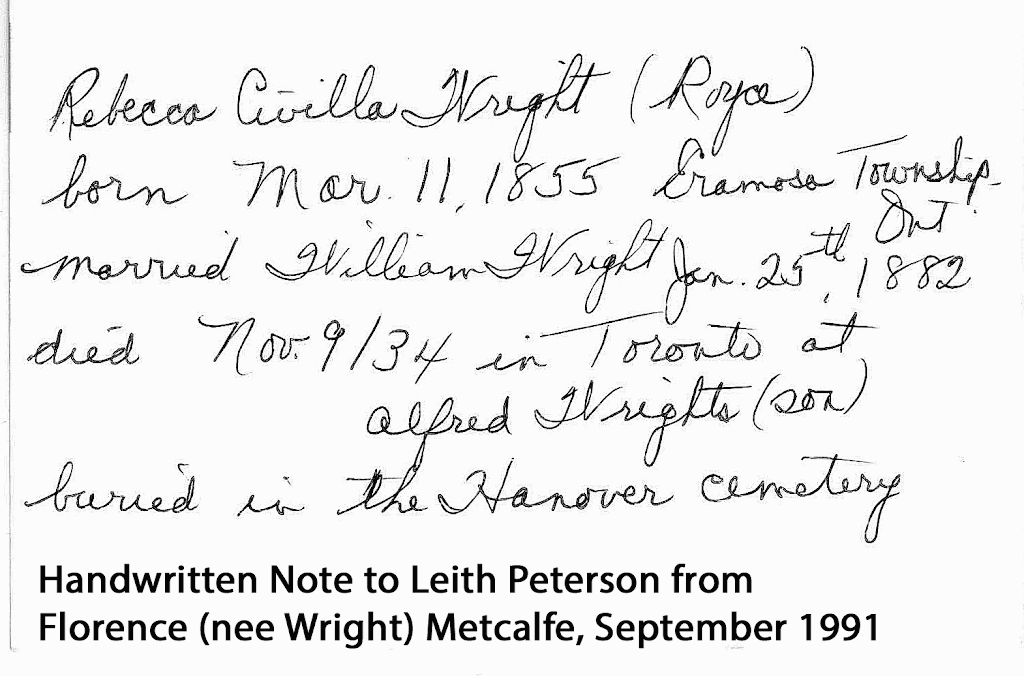 Note from Florence Metcalfe, 1991
Rebecca and William Wright had seven children, and the second youngest was my mother's mother Catherine (Cassie) Prudence Wright (1893-1992). In 1918, my grandmother married my grandfather John Stuart Fleming (1892-1989). My mother Jessie (Jay) Royce Fleming was the oldest of their three daughters.
In 1943, my mother married my father Charles T Peterson (1913-2007). I am the oldest of their four children and my brother Donald Royce Peterson is the youngest.
Below is a photo of my mother and grandmother, taken around 1964: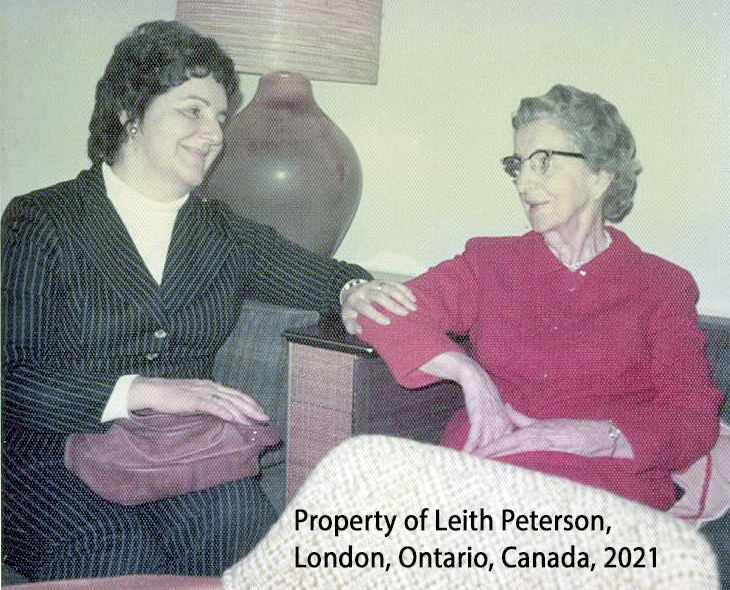 Jay Peterson and her mother, Cassie Fleming, ca. 1964
Conclusion
As explained in Part Four of Four of my December 15, 2016 https://www.leithpeterson.ca series about my mother, she was involved with Indigenous issues from 1958 until her passing in 1976. Although I continued with her association until around the mid-2000s, I now primarily view the situation from the outside looking in.
Since April 2011, I have explored my views on this topic on my other blog https://www.counterpoise.ca. It includes posts about Indigenous people whose work I think is noteworthy. For instance, I have reviewed books by Indigenous authors. Recording my views has helped me to make sense of what I experienced in this area.
I plan to explore Sarah's, my mother's and my connection to this topic in future drafts of my memoir. In addition, I want to write more about Marion and Jean Royce. They were both noted community leaders in their time, and I would like to investigate further what made them so successful.
A Note About the Books I Own About Sarah and Jean Royce, and the Bibliography Below
In September 2021, I purchased A Frontier Lady (1977), Across the Plains and Setting the Agenda–all from Amazon.
If you do an online search for Sarah Royce, you will likely find there are many articles about her and/or reviews of her published journal. What I list in the bibliography below is only a small portion of them.
Bibliography
Briggs, C. (2001). Fighting for women's equality: the federal Women's Bureau, 1945-1967: an example of early "state feminism" in Canada (PhD History thesis). Waterloo, Ontario: University of Waterloo.
Farley, E (2010, Spring). Across the Plains: Sarah Royce's Western Narrative (review). Retrieved from Rain Taxi: https://www.raintaxi.com
Gillen, M. (1964, September). Marion Royce. Chatelaine, pp. 42-43, 89-93.
Hamilton, R. (2002). Setting the Agenda: Jean Royce and the Shaping of Queen's University. Toronto: University of Toronto Press.
Hamilton, R. (2012). Jean Royce–Queen's University Incarnate. Retrieved from Queen's Gazette:https://www.queensu.ca/gazette
Korinek, V. J. (2007). The Chatelaine Legacy. Canadian Women Studies/Les Cahiers De La Femme, 14-21.
MacKinnon, M. (1988). Royce Family Tree – Second Edition. Short Hills, New Jersey: unpublished.
Queen's University. (n.d.). Royce, Jean Isobel (1904-1982). Retrieved September 2021 from Queen's Encyclopedia: https://www.queensu.ca/encyclopedia
Royce, S. (1977). A frontier lady. Lincoln, Nebraska: University of Nebraska Press.
Royce, S. (2009). Across the Plains: Sarah Royce's Western Narrative. Tucson, Arizona: University of Arizona Press.
Simonsen, J. (2010, Winter). Across the Plains: Sarah Royce's Western Narrative (review). Western American Literature, 44(4), 398-399.