Note: Many thanks to all those who directly or indirectly contributed to the contents of this post.
Introduction
My parents Charles T Peterson (1913-2007) and Jay Peterson (1920-1976) were very much into celebrating Christmas.  My brothers Stu, Chris (1954-2009) and Don, and myself, enjoyed Noel-inspired art, music and other joys of the season when we lived at 283 Dufferin Avenue in London, Ontario, Canada.  This was during the early 1950s to early 1970s.
One of the factors that contributed to our Christmas spirit was we lived very close to Victoria Park.  On December 5, 1958, the park's lights, celebrating the annual Christmas Wonderland, were lit for the first time.  I looked forward to the yearly displays in the park.
1952 – Leith Peterson's Christmas Gift Wrap Chow Down
On my first Christmas in December 1952, I did not have a fulsome grasp of the meaningfulness of the season.  I was more interested in chowing down on gift wrap.
Leith Peterson chowing down on Xmas wrap, December 1952
1954 – Jay Peterson's 1954 Christmas Card
My mother designed beautiful artwork for Christmas cards.  In recent years, I have frequently incorporated her creations into my own seasonal greetings.  You can find images of them in other posts on this blog.
But her 1954 one, which graced my 2018 card, is a new addition to this blog.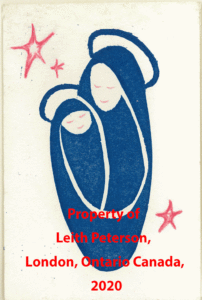 Jay Peterson's 1954 Xmas card image
1955 – Stu and Charles Peterson Enjoy a Christmas Song Book
In December 1955, my brother Stu and my father enjoyed looking at a Christmas song book.  This image appeared on my 2020 card.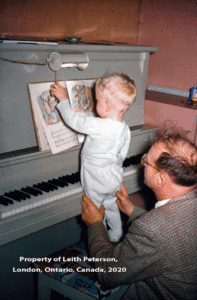 Stu & Charles Peterson enjoy Christmas song book 1955
1964-1965 – Print Shop at Leith, Ontario
In 1889, my maternal great-grandfather, C A Fleming (1857-1945), spent his first summer in Leith, Ontario, in a rented log cabin.
(I am named after this village, which is located about six kilometres east of Owen Sound.)
By 1900, C A and other members of my mother's side of the family had built cottages at Leith.  My grandfather, J Stuart Fleming (1892-1989)'s summer home was part of the "Fleming compound," along with the cottage my family stayed in.
C A, his sons Howard, George and my grandfather Stuart, were all involved in the printing business.  By the age of nine, my grandfather had learned how to set type and run a printing press.
Grandfather wanted to maintain the printing tradition in the family, so he set up a "print shop" in a cottage in the Fleming Compound.  A number of my relatives, including my brothers Stu and Chris, learned the printing trade at the shop during the summers.
My brothers printed personalized stationery and Christmas cards.  Below is a scan of their business card.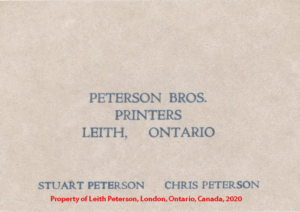 Stu & Chris Peterson's Print Shop Business Card, ca. 1964-1965
The stationery and Christmas card proceeds were given to the Owen Sound Branch of the Canadian Save the Children Fund.
During the 1964 to 1965 period, a photo of my brothers working at the then 100-year-old press in Leith, was published in the Owen Sound Sun-Times and the Save the Children Fund magazine entitled The World's Children.
On March 29, 1965, there was also a write-up about my brothers' photo in the Sun-Times.  In addition, the article mentioned how the money was distributed to charity.  Below is the headline from this article, where my brothers' work was mentioned, and the relevant excerpt from the article.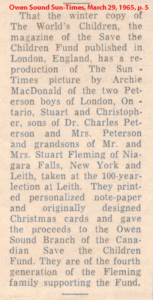 Owen Sound Sun-Times article excerpt, March 29, 1965
The above newspaper excerpts were "Originally published in The Owen Sound Sun Times, a Division of Postmedia Network Inc."  See the end note at the end of this post for further information.
1965 – Leith Peterson's "The Christmas Story"
My brothers Stu and Chris were more into doing work at the print shop than I was, but in 1965, my grandfather suggested I create a Christmas card.  He asked for not only a drawing, but also a write-up about what Christmas meant to me.
I do not remember many of the particulars of this print shop adventure, other than I had to carve the design into what I believe is called a linoleum block.  Below is the first page of the four-page card.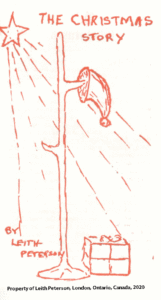 Leith Peterson's Christmas Story, 1965
Obviously, I did not inherit my mother's artistic abilities.
I also composed a three-page write-up (still have the draft I composed on a typewriter).  I had to set the type to create the words for the printing press block.  This meant pulling the individual letters out of drawers and setting them in the proper order to put in the press block.  This was no easy task for a 13-year old in Grade 8 like me.  Stu and Chris had much more experience in the printing trade than I had.
Below are pages 2 to 3 of my card.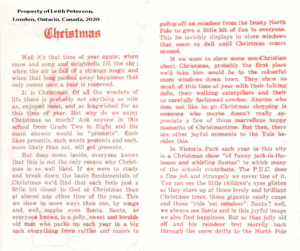 Pages 2-3 of Leith Peterson's Christmas Story, 1965
And here is the final page 4 of my card: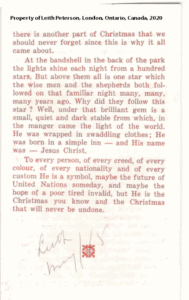 Leith Peterson's Christmas Story final page 4, 1965
I realize reading this small print on my Christmas Story card might not be easy, so I have transcribed the text below.
Leith Peterson's 1965 "The Christmas Story" Text
Well it's that time of year again, when snow and song and sleighbells fill the sky; when the air is full of a strange magic and when the long packed away happiness that only comes once a year is reopened.  
If is Christmas.  Of all the wonders of life there is probably not anything as nice as, enjoyed most, and as longwished [sic] for as this time of the year.  But why do we enjoy Christmas so much? Ask anyone in this school from Grades Two to Eight and the main answer would be "presents."  Each likes presents, each wants presents, and each, more likely than not, will get presents.
But deep down inside, everyone knows that this is not the only reason why Christmas is so well liked.  If we were to study and break down the basic fundamentals of Christmas, we'd find that each feels just a little bit closer to God at Christmas than at almost any other time of the year.  This we show in more ways than one, by songs, and well, maybe even Santa.  Santa, as everyone knows, is a jolly, sweet and lovable old man who packs up each year in a big sack everything from rattles and razors to gallop off on reindeer from the frosty North Pole to give a little bit of fun to everyone.  This he lavishly displays in store windows that seem so dull until Christmas comes around.
If we were to show some non-Christian about Christmas, probably the first place we'd take him would be to the colourful store windows down town [sic].  They show so much of this time of the year with their talking dolls, their walking caterpillars and their so carefully fashioned creches.  Anyone who does not like to go Christmas shopping is someone who maybe doesn't really appreciate a few of those marvellous happy moments of Christmastime.  But then, there are other joyful moments to the Yule besides this.
In Victoria Park each year in this city is a Christmas show "of funny jack-in-the-boxes and whirling Santas" to which many schools contribute.  The P.U.C. does a fine job and strangely we never tire of it.  You can see the little children's eyes glisten as they stare up at those lovely and brilliant Christmas trees, those gigantic candy canes and those "ride 'em reindeer."  Santa? Well we always see Santa and in this joyful image we also find happiness.
But as that jolly old elf and his reindeer trot merrily back through the snow drifts to the North Pole, there is another part of Christmas that we should never forget since this is why it all came about.
At the bandshell at the back of the park the lights shine each night from a hundred stars.  But above them all is one star which the wise men and the shepherds both followed on that familiar night many, many years ago.  Whey did they follow this star?  Well under that brilliant gem is a small, quiet and dark stable from which, in the manger came the light of the world.  He was wrapped in swaddling clothes; He was born in a simple inn — and his name was — Jesus Christ.
To every person, of every creed, of every colour, of every nationality, and of every custom, He is a symbol, maybe the future of the United Nations someday, and maybe the hope of a poor tired invalid, but He is the Christmas we know and the Christmas that will never be undone.
Leith Peterson's 1965 "The Christmas Story" – Conclusion
On page four, you will see in my grandfather's handwriting "Leith May/65" so I must have designed the card at the print shop in May of 1965.
P.U.C. stands for the Public Utilities Commission of the City of London.  The PUC was responsible for parks from 1914 until 1993.  The PUC was also disbanded in 1993 and its duties were dispersed over a number of different departments.
You will note [sic] after "longwished." This is not one word and should read "long wished."
There is also a [sic] after "down town," because it should be one word "downtown."
I do not know whether these errors were caused by my lack of ability to set type or were simply spelling errors.
If I were to compose such a Christmas story today, I would not be so Christian-centric in my presentation.  I realize there are many religions in the world, and, although I personally like to think of Jesus Christ as a universal saviour, I recognize people of other cultures may not share this view.
I do not remember what happened to my Christmas story card after that.  But I have enjoyed rediscovering it and the memories it brings back of the Victoria Park of my childhood.
Conclusion
During this trying pandemic period, I find it comforting to re-examine a time in my life when things were not as complicated as they are now.  I enjoyed simple pleasures like viewing Yuletide art and displays and writing about what gave me inspiration.
End Note: Sometime after the 1965 period, The Owen Sound Sun Times dropped the hyphen from its name.  It is now a Division of Postmedia Network Inc.  In March 2020, I consulted with a Postmedia rep regarding publishing older Sun Times articles.  She said if there was no author named, and it was published more than 50 years ago, I should be fine to reproduce.  This was because after 50 years, it would be in the Public Domain.  However, she said to provide the following credit: "Originally published in The Owen Sound Sun Times, a Division of Postmedia Network Inc."
The photographer, Archie MacDonald, mentioned in the March 29, 1965 article above, may still own the copyright to the photo of my brothers in the print shop.  MacDonald's copyright could be in effect until 50 years after his passing.  Canadian copyright law is complicated when it comes to photography in newspapers, so I cannot be sure.  It would depend on the arrangement MacDonald had with the Sun-Times at the time the photo was taken.  Because I am not certain, I will not publish it here.  However, I am glad I have a copy of the newsprint version of the photo in my files.
Bibliography
Brock, D J.  (2011).  Fragments from the Forks: London Ontario's legacy.  London, Ontario: London & Middlesex Historical Society.
Fleming, C G. (August 20, 1989).  Leith Reminiscences of 100 years.  Leith, Ontario (unpublished).
MacDonald, A. (1964, Winter).  [Photo of Christopher and Stuart Peterson using 100-year-old printing press at Leith, Ontario].  In The World's Children, p. 101.
Owen Sound Sun-Times.  (1965, March 29).  Did you know? [excerpt].  Owen Sound Sun-Times, p. 5.
Owen Sound Sun-Times.  (1964?).  [Photo of Christopher and Stuart Peterson using 100-year-old printing press at Leith, Ontario].  Owen Sound Sun-Times.
Whebell, C, & Goodden, H. (2015, July 6).  London.  Retrieved from Canadian Encyclopedia: https://www.thecanadianencyclopedia.ca