Updated: Tuesday, May 15, 2018, 6:40A EST

Note One: Although some sources, such as the 1871 Census of Canada, reported that Michael Sullivan's birth year was 1814, this date was very likely based on the age he was at the time the census was conducted.  The 1871 Census officially commenced on April 2, so if Michael's birthday was sometime after the census, then the enumerator probably chose the census year minus Michael's age (57) at the time (1871-57 = 1814).

Although I have not yet been able to locate a birthdate for Michael, his tombstone says he died at 73 on July 19, 1886, which means he was likely born in 1813.  I realize tombstone information can also be inaccurate, but in this case, I think it is probably more accurate than what is provided in the census.

Further proof that the 1871 enumerator relied on the age, rather than the actual birth year, is borne out by the information for Michael's wife Jane.  According to her son, Thomas Sullivan's Bible, she was born January 24, 1816.  She reported her age as 56 in the census, but her birth year is listed as 1815.

Thomas Sullivan's birthdate on his tombstone is October 4, 1849.  He is listed as 21 in the census and his birth year is reported as 1850.

Note Two: I have corrected below that Michael and Jane were married around the 1840 to 1845 period, not 1830 to 1834.

Michael Sullivan's Move from Cork, Ireland to Cornwall, England to Bruce Mines, Upper Canada
My father, Charles T. Peterson (1913-2007), was very proud of his Irish and Cornish ancestry.  He liked to tell the story of Michael O'Sullivan (1813-1886), his Irish great-grandfather who changed his surname from O'Sullivan to Sullivan after he got on the wrong side of the Roman Catholic Church.
The following version of the story has been adapted from written accounts obtained from various family members, including my father's brother, Harold Peterson (1911-1987), and my father's first cousin, Russell Sullivan (1916-1994).
Originally the family name was O'Sullivan.  They were Roman Catholics who lived in the Cork area of Ireland.  Michael O'Sullivan transgressed the Catholic church for a "minor" sin.  He was made to do penance by walking with pebbles in his shoes and saying too many "Hail Mary's."  He did this, but only for a short period of time.  He thought this act of penance was not of God and started to question everything relating to his "Mother Church" and its teachings.  He changed his name from O'Sullivan to Sullivan, and moved to Cambourne, in the Cornwall area of England.

He courted a widow named Jane (nee Trevillion) Hotton (1816-1895) who had four children.  Her husband, John Hotton (1807-ca. 1840), had been killed in a mining accident in Cornwall.  Jane told Michael that if he wanted to marry her, he would have to become a Methodist, so he complied with her wishes.  Sometime during the 1840 to 1845 period, they married in Cambourne, and subsequently had two children.  Michael was employed in the tin and/or copper mines.

Around the late 1840s, copper was discovered near Sault Ste. Marie, Upper Canada.  The centre of this find turned out to be Bruce Mines.  This led to a call for experienced miners, including those in the Cornwall and Devonshire areas of England.

It is possible that Michael saw an advertisement placed in the local newspapers by Canadian mining companies.  In any event, Michael and Jane decided to move to Bruce Mines, to seek a better life.  Their trip across the Atlantic, ca. 1851, took seven weeks.  Accompanying Michael (37) and Jane (35) were their six children, ranging in age from two to 16 (including 12-year old twin girls).
Here is an excerpt from a Bruce Mines community history:
The early Bruce Miners faced many privations and difficulties in their attempts to establish homes.  Lacking adequate medical services as well as many luxuries which they enjoyed in their native land, they consoled themselves with the hard work of pecking out the copper ore and attending to the necessary duties in the small community.
The Sullivans were among the families who introduced Cornish "pasties" and saffron bread to the community.  That is why my father always enjoyed these dishes.  He said they reminded him of "home" (he was born and raised in Bruce Mines).
Below is a photo of Michael and Jane Sullivan's gravestone in the Bruce Mines Cemetery.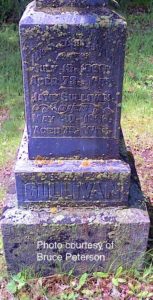 Michael and Jane Sullivan's gravestone
The inscriptions reads:
Michael Sullivan
Died
July 19, 1886
Aged 73, y'rs

Jane Sullivan
Died 
May 30, 1895
Aged 79, y'rs
Thomas Sullivan (1849-1920) – Son of Michael and Jane Sullivan
One of the two children born to Michael and Jane in Cambourne was Thomas Sullivan (1849-1920).  He was about two when his family started their new life on the other side of the Atlantic.
(Note: in 1867, Bruce Mines, Upper Canada, became Bruce Mines, Ontario, Canada.)
In 1873, Thomas married Harriet Knight (1856-1939) in Bruce Mines.  They had 13 children.  Their oldest, Albert Sullivan (1874-1965), was Canadian "roots music legend" Ken Whiteley's grandfather.  Their third oldest, Kezia Sullivan (1873-1966), was my grandmother.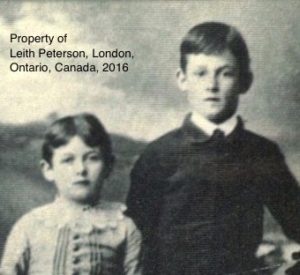 Kezia Sullivan and Albert Sullivan, ca. 1887
Thomas became a respected figure in Bruce Mines.  Over the years he served in such capacities as town clerk, Sunday school superintendent and school board treasurer.  My Uncle Harold Peterson said his grandfather Thomas was "as bald-headed as a billiard table" and a "real true Christian."
Below is a photo of Thomas and Harriet Sullivan's gravestone in the Bruce Mines Cemetery.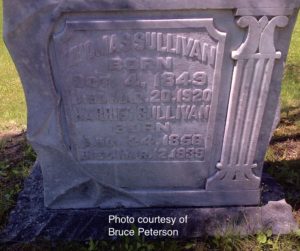 Thomas and Harriet Sullivan's gravestone
The inscription reads:
Thomas Sulivan
Born
Oct. 4, 1849
Died Mar. 20, 1920
Harriet Sullivan
Born
Aug. 24, 1856
Died Mar. 12, 1939
Ken Whiteley and "That Other Shore"
The Canadian Encyclopedia entry for Ken Whiteley describes him as a "multi-instrumentalist, singer, songwriter [and] record producer."  The "Welcome" section of Ken's website (kenwhiteley.com) says his "musical journey has taken him from jug band, folk and swing to blues, gospel and children's music."  He has won a Canadian Folk Music Award and a Genie Award for Best Original Song, among many other accolades.
Like me, Ken grew up hearing the Michael Sullivan story.  One of the people he heard it from was his grandfather, Albert Sullivan.  Albert came to live with Ken's family during the last six years of his life and was "quite an influence" on Ken.
Ken wrote the song "That Other Shore" about our shared great-great grandfather Michael Sullivan.  The song is on his Freedom Blues (2016) CD.  The CD can be purchased via his kenwhiteley.com website, or via borealisrecords.com
Ken Whiteley Sang "That Other Shore" at the Home County Music & Art Festival, London, Ontario, Canada, July 16, 2016
Ken was one of the performers on the Home County Music & Art Festival Main Stage in London, Ontario on Saturday, July 16, 2016.  He sang "That Other Shore," and asked me to identify myself in the audience.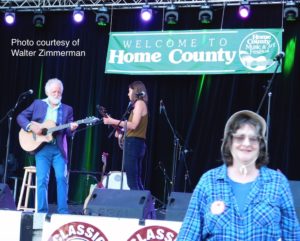 Ken Whiteley, Allison deGroot and Leith Peterson
I went around the back of the audience to the other side of the stage to take photos of Ken singing the song, because the light was better on that side.  Walter Zimmerman asked me to stand below the stage, while Ken was singing "That Other Shore," so he could take a photo.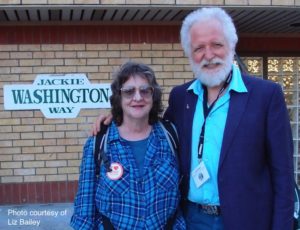 Leith Peterson, Ken Whiteley
After Ken's performance, my friend Liz Bailey took a photo of Ken and me standing beside the Jackie Washington Way plaque to the right of the Main Stage.
Ken Whiteley's "That Other Shore" YouTube Video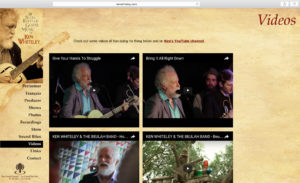 kenwhiteley.com screenshot, July 22, 2016
Ken has also produced a video of "That Other Shore," which can be located by clicking on the "Ken's YouTube Channel" link in the Videos section of kenwhiteley.com
It can also be found by going to youtube.com.  Then search for "Ken Whiteley" and "That Other Shore," and you should find the page below: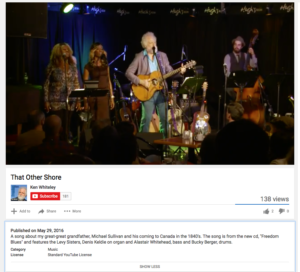 "That Other Shore" YouTube video screenshot, July 22, 2016
Bibliography
A Short History of Bruce Mines' Beginnings (ca. 1955-1960).  Publication details unknown.
Bowman, D. (2013, December 16).  Ken Whiteley.  Canadian Encyclopedia: canadianencyclopedia.ca
Bruce Mines United Church Celebrates Golden Anniversary (1955, October 10).  Newspaper article.
Peterson, B. (ca. 2010-2016).  Sullivan Family Details (Extracts from HDP Memoirs).  Unpublished.
Sullivan, P. (1978).  Bruce Mines, Ont, Aug. 6/78.  Unpublished.
Sullivan, R.A. (1991, January 31).  [Letter to Harriet Black re Sullivan Family History].  Unpublished.
Sullivan, R.A. & Lewis, M.S. (1988).  [Trevillion/Hotton/Sullivan Family Tree].  Unpublished.
Whiteley, Ken (2016).  Blues, Roots and Gospel Music of Ken Whiteley.  kenwhiteley.com