Part One – Disclaimer: My references to the writings of other people–including Indigenous, Non-Indigenous and African American–do not in any way imply that they share my views on this matter.  The opinions expressed here are my own, and do not necessarily represent those of my family, friends or associates.
Part One – Acknowledgements: A number of people–in London, Ontario, Canada and elsewhere–assisted me in the development of this three-part post series, not only in terms of the content, but also with technological matters relating to Google Blogger's new interface.  Because of the controversial nature of some aspects of the subject matter, I have concluded it is probably best not to thank them all here.  Their help was deeply appreciated, but any errors or omissions are mine.
Part One – Note: The photo I took in 2000 of John Baptist Askin's grave at the Woodland Cemetery is used with the permission of the cemetery.
Part One – Introduction – "'Colonel' to his Friends, 'Indian' to His Detractors"
The "'Colonel' to his friends, 'Indian' to his detractors" quotation is from an April 27, 1968 London Free Press article by L N Bronson (1905-1994).  Bronson was referring to Metis office holder, John Baptist Askin (aka Jean-Baptiste Askin, Jean Baptist Askin and Johnny Askin).  Askin (1788-1869) was a member of the London elite from the time he came to the city in 1832 until his passing.  Bronson was correct that Londoners either praised or denounced him.
Askin's military contributions during the War of 1812 have been documented by not only Non-Indigenous historians such as J J Talman (1904-1993) but also by Metis historian Lawrence J Barkwell (1943-2019).  In 2012, the Metis Nation of Ontario included Baptist Askin in their War of 1812 commemoration material.
London, Ontario fine artist Greg Curnoe (1936-1992) had an entry for Baptist Askin in his Deeds/Nations (1996)–a book (published posthumously) about Southwestern Ontario history from 1750 to 1850.  It featured the contributions of Aboriginal people to the region during this period.
Part One – Askin Family Chart
Since the Askin family genealogy is quite complex, I prepared the chart below: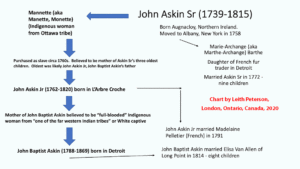 Askin Family Chart
Part One – Baptist Askin's Indigenous Ancestry
According to Baptist Askin's London Daily Advertiser obituary, his mother was a "full-blooded" Indian. . .of one of the far western Indian tribes."  The obit also said he "took great pride in his descent from the original lords of the forest."
An "Askin Network" chart in John Clarke's Land, Power and Economics on the Frontier of Upper Canada (2001), indicates that Baptist Askin's father, John Askin Jr (1762-1820) had a relationship with an "Indian woman," and Baptist Askin was their son.
Milo M Quaife edited the John Askin Papers, published in 1928 (volume 1, 1747-1795) and 1931 (volume 2, 1796-1820).  He said that Baptist Askin's mother may have been a Non-Indigenous captive.  This information likely led J J Talman to state in his Dictionary of Canadian Biography entry that the "maternal ancestry is uncertain."
Quaife also noted that Baptist Askin was baptized a few weeks after Askin Jr's marriage to Madelaine (nee Pelletier) in October 1791.  Madelaine was French and also possibly Metis.
Askin Jr and his wife Madelaine are recognized by some in the Metis communities for their introduction of the Mackinaw cloth in 1811.  At the time, Askin Jr was a fur trader in Fort St Joseph.  This British outpost was located on St Joseph's Island on Lake Huron near Sault Ste Marie, Ontario.  Madelaine and the Metis women at the fort supplied the 10th Royal Veterans Battalion with "Mackinaw Coats" to replace their worn-out military attire.  The women used red plaid dense water-repellant woolen cloth.  The term "Mac" was eventually recognized as a Canadian symbol of working class values.
Although sources differ as to whether Madelaine had some Indigenous ancestry, Baptist Askin's paternal grandmother Mannette (aka Manette or Monette) is widely believed to be Indigenous from the Ottawa (aka Odawa) tribe.  Mannette will be discussed in more detail later in this post.
Part One – Why I am Interested in Baptist Askin and His Ancestors
One of the main reasons I decided to write this post is because I was interested in learning more about Baptist Askin's background.  In the early 2000s, I had a one-act play produced in which the two characters discussed him.
Then in 2010, an historian friend provided me with some information about his paternal grandfather and father, that made me want to delve more deeply.  She explained that Askin Sr (1739-1815) and Jr had engaged in questionable land transactions with Indigenous groups, and that Askin Sr kept Indigenous and Black slaves.
I wanted to better understand why Baptist Askin achieved a fair measure of success in London, yet his ancestry was mired in controversy.
I concluded from the additional research I did this year (2020) that his story is complex and not easily slotted into a particular category.  This also applies to his grandfather and father.  The time period in which the Askin family operated was one of tremendous political, cultural and racial upheaval.  They often chose their alliances based on what they believed would get them over the next hurdle, rather than what would be seen as ideologically appropriate by today's standards.
Part One – John Askin Sr (1739-1815) and John Askin Jr (1762-1820)
Askin Sr helped establish British rule in Upper Canada through his work as a fur trader and merchant.  He was born in Augnacloy, Northern Ireland.  In 1758, he moved with the British army to Albany, New York.  He followed the army, selling provisions to the soldiers (sutler).  However, he did not have much success commercially.
Consequently, in 1763, he went to Michilimackinac, which is located on the southern shore of the Lakes Huron and Michigan juncture.  There he operated a trading post and was more successful, remaining until 1775.
In 1781, Askin Sr relocated to Detroit.  His involvement with the Miami Company ended with a 1786 bankruptcy.  But he had developed an extensive network of family, friends and associates who supported him through his various financial upheavals.
Throughout this period, Askin Sr negotiated with Indigenous tribes to convince them to side with the British instead of the French.  This was often a difficult task because the French were usually more generous in their terms than the British.  There were regular intercultural exchanges (including intermarriage) between the French and the Indians.  The British were generally more standoffish and not as generous in negotiations.
It is possible Askin Sr realized that in order to gain the support of the Aboriginal groups, he should do something to win their trust.  This was possibly his motivation for purchasing the "Indian slave" Mannette.  She is believed to be the mother of his three oldest children, John Jr (Baptist Askin's father), Catherine and Madelaine, who were born during the 1762 to 1764 period.  This "marriage" gave Askin Sr credibility in Indigenous communities, and he used this perception to acquire land from them.
Quaife said it was a "matter of record" that Askin Jr was born in L'Arbre Croche, which was an Ottawa Indigenous town (now the site of Harbor Springs, Michigan).
Tiya Miles is an African American historian, who has some Indigenous ancestry on her father's side.  She consulted the Askin Papers in the Burton Historical Collection at the Detroit Public Library, when she was researching her book The dawn of Detroit: a chronicle of slavery and freedom in the city of the straits (2017).  Miles thinks "Mannette" was "probably Ottawa from a nearby village."
Clarke said that because Askin Jr was "mixed blood" and fluent in the "Ottawa and Chippewa languages" he was sometimes sent to negotiate with Indigenous groups.
On September 9, 1776, Askin Sr freed his "Panisse slave" (Mannette).  Miles concluded, since all correspondence with Mannette stopped after that, she might have thought her best option was to completely cut off contact with her former owner and three young children.  However, Quaife thought another possibility was that she passed away.
In 1772, Askin Sr married Marie-Archange (aka Marthe-Archange) Barthe, whose ancestry was French.  Her father was a well-known Detroit trader.  The children by Mannette stayed with the second wife, in a "household served by Indian and black bondspeople."  Askin and Barthe had nine children.
Askin Sr's freeing of Mannette was certainly not common among British slaveholders in Detroit.  Quaife, Talman and other historians have noted that Askin Sr treated his part-Indigenous children the same as he did his other nine offspring.  For instance, Askin Jr was educated in Montreal for several years before his father helped him find employment.
However, Askin Sr continued to own slaves after Mannette departed.  In a 1776 inventory of his slaves, he said he had two Black men, two Indian boys and two Panis "wenches."  He included a price for each of these individuals held in bondage.
In his May 18, 1778 letter to M Beausoleil, he said he needed "two pretty panis girls of from 9 to 16 years of age."
In 1787, Askin Sr had eight slaves, four who were Black, two Panis and two children of an unspecified race.
It is possible that at least some of the Indigenous women slaves Askin Sr had in his household were sexually exploited by him or others.
Askin Sr's land transactions with Indigenous tribes were particularly suspect during the 1796 period.  For further information about his often questionable handling of Indigenous lands, I recommend looking at the previously mentioned Miles and Clarke books.
In 1802, Askin Sr moved to Sandwich in Upper Canada to manage the Western District.
Part One – Baptist Askin – Brief Biographical Sketch
Baptist Askin was born in Detroit.  He served on the side of the British during the War of 1812.  On January 22, 1813, he led a small band of Indigenous people to defend Major-General Isaac Brock at the Battle of River Raisin (aka the Battle of Frenchtown) in a section of what is now Monroe, Michigan.  That battle ended before he and the band arrived, but he later served as a Metis interpreter for Colonel Henry Proctor.
When the Rebellion of 1837 broke out, Baptist Askin took action to suppress William Lyon Mackenzie and his followers.  He destroyed the press and type of the St Thomas Liberal newspaper.  In 1838, he was promoted to colonel.
Baptist Askin married Elisa Van Allen in 1814; the couple had eight children.  They settled in Vittoria, Norfolk County, Upper Canada, where he held various official positions.  In 1832, the family moved to London after the district court was transferred there.  He established himself as a prominent resident, with a mansion called "Woodview," in an area now called Wortley Village.  He was a major force behind the establishment of the town's Mechanics Institute and was also president of the Middlesex Agricultural Society for 30 years.  In addition, he held a number of official positions in London, including clerk of the peace.  The "London Elite" which included the Harrises of Eldon House, considered Askin to be one of their own.
There are four reminders of Colonel Askin in Wortley Village.  The jog in Elmwood Avenue follows the lane that led up to his estate.  Askin Street bears his name, plus Cynthia and Teresa Streets, which branch off from Askin, are named after his daughters.
The Daily Advertiser obituary praised him as "the most extensively known citizen in Western Ontario. . .mourned by a large circle of warm personal friends as well as sorrowing members of his family."
Part One – Baptist Askin's Grave, Woodland Cemetery, London, Ontario, 2000
Below is a photo I took of Baptist Askin's grave in 2000:
The Ivey Family London Room supplied the information below in September 2010.
The grave is located in Row 30, Stone 5.  The inscription reads:
In memory of Col. John Askin (April 10, 1788-November 14, 1869), his wife Elizabeth (January 20, 1792-November 24 1872)

Part One – Conclusion
Although there is no concrete evidence to back it up, Askin Sr's correspondence points to a disparaging attitude towards some Panis women, particularly young ones.  He also referred a couple of times to Madelaine, an escaped Black woman slave, as a "wench."
Yet, as previous mentioned, Askin Sr looked after his children by Mannette.  He ensured they were educated, that they married into what he considered to be respectable families, and that they were "reared to civilization."  Askin Sr mostly raised Baptist Askin, probably because Askin Jr was so busy living and working outside of Detroit.
One possible reason for this varying treatment of Indigenous women is that Askin Sr recognized Mannette's knowledge of Indigenous culture and languages was valuable to his fur trading business.  Aboriginal traders were also influenced by his access to alcohol.
There were many skeletons in Baptist Askin's closet, but he left his mark on London.  He was both a colonel and an Indian at a very tumultuous time.
Part One – End Note #1: Terminology for Indigenous People Used in This Post
There are many ways Indigenous people describe themselves, e.g., tribal, cultural and legal.  Sometimes Aboriginal communities changed their names because the terms originally used for them could be considered derogatory.  On other occasions, they replaced names given to them by Europeans with their traditional ones.  Historical developments have also influenced what they call themselves.
Indian still has a specific meaning under the terms of the Canadian government's 1876 Indian Act, which is still in effect.  Although some Indigenous people object to the use of the term Indian, other recognize its legal implications.  Since most of the contents of this post takes place when Indian was the term commonly used, it is employed when appropriate to the context.
For further information about Indian and other terms relating to Indigenous people, please refer to Section B of my April 18, 2018 https://www.counterpoise.ca post about cultural misappropriation, which can be found elsewhere on this blog.
Panis (aka Panisse or panis) appears in this post but was not discussed in my April 18, 2018, Section B entry.  From about the 1670s to the 1830s, enslaved Indigenous people in the New World were often referred to as Panis.  The word appears to have originated in New France, but its use spread to the British and American revolutionaries.  However, this term can mean several different things, including Pawnee, which is a Central Plains Indigenous tribe located in Oklahoma, United States.  Because Panis can have several different connotations, I will only use it when it is clearly understood to mean an Indigenous slave.
Part One – End Note #2: Terminology for Geographical Locations in Canada and the United States
At various times between 1739 and 1867, Indigenous groups, France, Britain, American revolutionaries, Canada and the United States held the balance of power in the geographical locations discussed here.  This was particularly the case with Detroit.  It would be complicated and time-consuming to explain all these historical transformations.  If you are interested in learning more, please consult Canadian and American reference sources, and the bibliography.
However, I will point out the United States declared its independence from Great Britain on July 4, 1776, followed by the March 11, 1781 confederation.  Canada became a confederation on July 1, 1867.
Part One – End Note #3: London, 1800-1855
London was part of Upper Canada from 1741 until 1841, when the name changed to Canada West.  The British North America (BNA) Act of 1867 led to the creation of the province of Ontario, which is still the case today.  Ontario was one of four provinces that made up the newly created Canada.
The district of London was proclaimed in 1800.  An 1826 provincial bill led to the forks of the Thames becoming the administrative and legal centre of the London district.  London became a town in 1840 and a city in 1855.
Part One – Bibliography
Banersee, M.  (2018, February 19).  Detroit's dark secret: slavery.  Retrieved from Michigan Today: https://michigantoday.umich.edu
Barkwell, L.  (2014, January 13).  Mackinaw Jackets.  Retrieved from Gabriel Dumont Institute: https://gdins.org
Barkwell, L J.  (2013, December 10).  Jean-Baptiste Askin.  Retrieved from Gabriel Dumont Institute: https://gdins.org
Boyd, H.  (2017, December 15).  A book that will make you rethink slavery and the north.  Retrieved from Washington Post: www.washingtonpost.com
Brock, D J.  (2011).  Fragments from the Forks: London, Ontario's legacy.  London, Ontario: London & Middlesex Historical Society.
Bronson, L N. (1968, April 27).  Londoner cousin of famed historian.  London Free Press, p M9.
Campbell, C T. (1921).  Pioneer days in London.  London, Ontario: Advertiser Job Printing Company.
Cangany, C. (2019, October).  Dawn of Detroit [review].  Retrieved from https://muse.jhu.edu: Project Muse.
Clarke, J. (2001).  Land, Power and Economics on the Frontier of Upper Canada.  Montreal: McGill-Queen's University Press.
Curnoe, G.  (1996).  Deeds/Nations.  London, Ontario: London Chapter, Ontario Archeological Society.
Curnoe G. (2003).  Askin Street.  In M Baker and H B Neary, London Street Names (pp 9-10).  Toronto: James Lorimer & Company.
Death of Colonel Askin. (1869, November 15).  Daily Advertiser.
Farrell, D R. (1983).  Askin (Erskine), John.  Retrieved from Dictionary of Canadian Biography, volume 5: http:www.biographi.ca
Ferguson, W. (2000).  Canadian History for Dummies.  Toronto: Wiley Publishing.
Hughes, J, & Purdom T H.  (1912?).  History of the Bar of the County of Middlesex.  London, Ontario: Middlesex Historical Association.
London Public Library.  (2015, May 5).  McClella's Blog.  Retrieved from: From shoebox cards to scanned images: www.londonpubliclibrary.ca
Lutman, J H. (1979).  The South and West of London: An Historical and Architectural Guide.  London, Ontario: City of London.
McGuire, B. (1985, March 9).  Ask Les anything.  London Free Press.
Metis Nation of Ontario. (2012?).  Metis Role in 1812 Commemorated [reprint from Niagara This Week].  Retrieved from Metis Nation of Ontario: www.metisnation.org
Metis Nation of Ontario. (2012?).  Metis Voyageur – Metis & War of 1812 [announcement].  Retrieved from Metis Nation of Ontario: www.metisnation.org
Miles, T.  (2013, May/June).  Slavery in Early Detroit.  Michigan History, pp 33-37.
Miles, T. (2017).  The dawn of Detroit: a chronicle of slavery and freedom in the city of the straits.  New York: New Press.
Miles T. (2020, August 5).  Tiya Miles.  Retrieved from Tiya Miles: http://tiyamiles.com
Mills, D, Penneton, D, & McIntosh, A. (2020, May 22).  Family Compact.  Retrieved from Canadian Encyclopedia: https://www.thecanadianencyclopedia.ca
Mongrain, M. (2017, April 11).  The Mackinaw coat: a Canadian invention.  Retrieved from Parks Canada/Fort St Joseph National Historic Site: https://www.pc.gc.ca
Niagara This Week. (2012, July 25).  Metis' role in 1812 commemorated.  Retrieved from Niagara This Week: www.niagarathisweek.com
Quaife, M M. (1928).  John Askin Papers, Volume 1: 1747-1795.  Retrieved from the University of Windsor: https://scholar.uwindsor.ca
Simner, M L. (2012).  The Heart of Wortley Village.  London, Ontario: London & Middlesex Historical Society.
Sokoi, J. (2017, November 21).  Detroit's untold stories of slavery.  Retrieved from New York Times: https://www.nytimes.com
Talman, J J. (1948, August 8).  Col. Askin Prominent Pioneer.  London Free Press.
Talman, J J. (1976).  Askin, John Baptist.  Retrieved May 2010, from Dictionary of Canadian Biography: https:www.biographi.ca
Tourism London.  (2020, March 24).  A brief history of London, Ontario.  Retrieved from Tourism London: www.londontourism.ca
University of Windsor Archives.  (2020, September 5).  The life of John Askin.  Retrieved from University of Windsor Archives: leddy.uwindsor.ca/archives
Wikipedia contributors.  (2018, April 20).  Mackinaw cloth.  Retrieved from Wikipedia: https://en.wikipeda.org
Wikipedia contributors.  (2019, November 20).  John Askin Jr.  Retrieved from Wikipedia: https://en.wikipeda.org
Wikipedia contributors.  (2020, March 4).  John Askin.  Retrieved from Wikipedia: https://en.wikipeda.org
Wikipedia contributors.  (2020, June 20).  Lawrence J Barkwell.  Retrieved from Wikipedia: https://en.wikipeda.org
Wikipedia contributors.  (2018, August 7).  Panis slaves of First Nations descent.  Retrieved from Wikipedia: https://en.wikipeda.org