Part Two – Disclaimer: My references to the writings of other people–including Indigenous, Non-Indigenous and African American–do not in any way imply that they share my views on this matter.  The opinions expressed here are my own, and do not necessarily represent those of my family, friends or associates.
Part Two – Acknowledgements: A number of people–in London, Ontario, Canada and elsewhere–assisted me in the development of this three-part post series, not only in terms of the content, but also with technological matters relating to Google Blogger's new interface.  Because of the controversial nature of some aspects of the subject matter, I have concluded it is probably best not to thank them all here.  Their help was deeply appreciated, but any errors or omissions are mine.
Part Two – Note: The photo I took of John Wilson's grave at the Woodland Cemetery in 2000 is included with the permission of the cemetery.  Eldon House gave me the go-ahead to use the photo of Amelia Harris's portrait, which I took at Eldon House in 2000.
Part Two – Background Information Regarding My Amelia Play at Eldon House, 2001 and 2003
In February 2001, my one-act stage play, entitled "Amelia at the Forks of Ayzhkanzeebee: Propriety and Passion," premiered in the drawing room of Eldon House, an historic site here in London, Ontario, Canada.  There was also a second production, with a different cast and crew, in February 2003.  Both versions were produced by Museum London.  I took some liberties with the truth for dramatic effect, but for the most part, my script was based on historical sources.
The Harris family lived at Eldon House from 1834 until 1959.  In 1994, Robin Harris, a descendant of the family, published portions of the diaries of five women who lived at the estate at one time or another.  The most prolific was Amelia Harris (1798-1882), the matriarch, who kept a diary from 1857 until shortly before her passing in 1882.  Amelia's entries were often little jewels of wit, which chronicled life in the Forest City.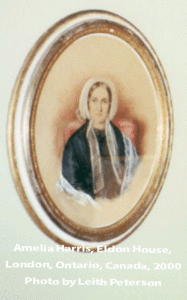 Amelia Harris (1798-1882)
Amelia was one of two characters in my play.  The other was lawyer/politician, John Wilson (1809-1869), who frequently visited Amelia.  Wilson killed a man in the last fatal duel in Upper Canada in 1833 while still a law student in Perth.  He moved to London a year later.
Amelia and Wilson liked to spar when they got together, and during the play they turned their attention to Baptist Askin.  While Amelia considered Askin to be one of her "oldest friends," Wilson did not share her enthusiasm.
Wilson and Askin did not have the same political views.  This problem extended to bureaucratic differences when around 1840, Wilson took over responsibility from Askin for the management of county funds.  He questioned Askin on his handling of these funds, which led to animosity between the two.
Askin had other detractors besides Wilson, but he was still considered one of the local elite (aka Family Compact)–an aristocratic governing class that believed power should remain in the hands of a select few.  This clique held sway over Upper Canada from the early to mid-1800s.  Because he was part of the Family Compact, like Amelia, it is not surprising he was a regular Eldon House guest.  Amelia frequently mentioned him in her diaries.
Part Two – Script for My Play Published in Anthology
In 2003, my Amelia play script was published in an anthology of London plays that premiered in 2001.  For further information about this book, refer to the Ballyhoo 2001 entry in the bibliography.
Part Two – End Note #1: Indigenous Names for the Thames River
An Indigenous resource person originally from a Northern Ontario reserve provided me with the Indigenous name for the Thames River–Ayzhkanzeebee.  But there are numerous variations on the name, based on the tribe in question and geographical location.  Kim Deleary, who at the time was working for the "Chippewa Land Claim Trust and Historical Research Department at Muncey, Ontario," had an article published on the different Indigenous names for the Thames River.  It was in the March 8, 2001 edition of Scene Magazine (see bibliography).  For further information beyond Deleary's article, I suggest consulting local Indigenous groups.
Part Two – End Note #2: Eldon House Governance and Amelia Harris's Portrait
As previously mentioned, the Harrises lived at Eldon House from 1834 until 1959.  It was bequeathed to the City of London in 1960 and is a popular tourist attraction.
In an August 10, 2020 email to me, Tara Wittmann, the Eldon House curator director, explained that the house has experienced a multi-faceted governance since 1960.  At first it was under the auspices of the London Public Library.  This was because the library ran several historical buildings and managed an art collection  In 1989, the London Public Library's "museum" division amalgamated with the London Regional Art Gallery to form the London Regional Art and Historical Museum (LRAHM).  Eldon House continued to be managed under this umbrella after LRAHM changed its name to Museum London in 2001.
On January 1, 2013, the City of London Council passed a by-law for Eldon House to become a stand-alone Municipal Service Board.  Although the City still owns this historic site, it is managed by the Eldon House Board of Directors.
The portrait of Amelia Harris is by J B Wandesforde (1817-1907).  He is believed to have created it during the years he lived in Canada (1847-1857).  This portrait is located in the Eldon House drawing room.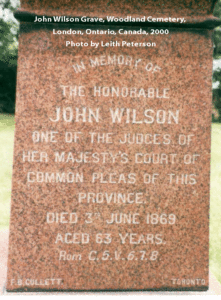 John Wilson (1809-1869)
Part Two – End Note #3: John Wilson's Grave at the Woodland Cemetery.  Photo I took in 2000.
Wilson's inscription reads:
In Memory of the Honorable John Wilson

One of the judges of Her Majesty's Court of Common Pleas of this Province,

Died 3rd June 1869

Aged 63 years

Rom C.5.V.6.7.8

F.B. Gullett, Toronto
(A London historian supplied the information that F.B. Gullett was the Toronto monument maker.)
Part Two – Conclusion
The research I did into Baptist Askin for my Eldon House play made me realize he was a complex individual with both positive and negative qualities.  Little did I know that almost 20 years later, I would unearth a whole new set of information regarding what his family and he did before he came to London.
I am glad that I decided to do this research because it has helped me to better understand him, and how London society operated at the time he lived here.
Part Two – Bibliography
Deleary, K. (2001, March 8).  Troubled Times on Turtle Island.  Scene Magazine, p. 6.
Eldon House.  (2020, November 23).  Eldon House/History.  Retrieved from Eldon House: https://eldonhouse.ca
Eldon House diaries: five women's views of the 19th century.  (1994).  Toronto: The Champlain Society in cooperation with the Province of Ontario.
Peterson, L. (2003).  Amelia at the Forks of Ayzhkanzeebee: Propriety and Passion.  In J Culbert, Ballyhoo 2001: Plays from London, Ontario (pp. 148-168).  [London, Ontario?]: Virtual E Solved.
Peterson, L. (2005).  Amelia Harris (1798-1882).  In M Baker, & H B Neary, 100 Fascinating Londoners (p. 21).  Toronto: James Lorimer & Company.
Peterson, L. (2005).  John Wilson (1809-1869).  In M Baker, & H B Neary, 100 Fascinating Londoners (pp. 12-13).  Toronto: James Lorimer & Company.