Updated, June 27, 2018, 11:10A EDT: Since this blog post was written, I have instituted a policy of not including links to other people's blogs or websites on my blog. Consequently, links that appeared in the original February 22, 2012 post have been removed. In their place, I have created citations in the bibliography, where the information can be found. The parts of my blog that have been updated are in red font.
As mentioned in part one, I see similarities between Salim Mansur's concerns about multiculturalism (as expressed in his book Delectable Lie) and my concerns about some aspects of current aboriginal policy in Canada.
In both cases, the government enacted legislation in order to gain support from the immigrant and aboriginal communities. The officials involved wanted to appease those who felt Quebec was getting preferential treatment in constitutional discussions, e.g., those who believed Canada was more than two founding nations. In addition, politicians wanted to get all sides on board so that constitutional negotiations could be finalized.
The evolutionary climate of the last 40 years of the 20th century gave legislators the idea that it was OK to tinker with liberalism so that societal changes could be accommodated. But Mansur feels that caving in to the demands of special interest groups results in a weakening of the small l liberalism that is important for maintaining freedom and individual rights in a democratic society.
In fact, it is not just small l liberalism that is at stake, but the security of the country. There are increasing reports that Islamist and/or pro-Palestinian/anti-Jewish forces are involved with aboriginal protests.
Pro-Palestinian/Anti-Jewish Groups and the Six Nations Occupiers at Caledonia
One of the most glaring examples of this is the nearly six-year occupation by Six Nations militants of the former Douglas Creek Estates (DCE) at Caledonia, Ontario. You can read my "David Peterson and the Caledonia Crisis" post for more information about this crisis.
In a February 1, 2012 article, Caledonia activist Gary McHale said "when the occupation of DCE first started five Palestinian groups helped finance the occupation, and a Palestinian flag was raised on DCE. . .Since then anti-Israel protesters were seen at DCE. . .At McMaster [University] the same protesters on DCE are organizing Six Nations/Palestinian struggle events."

You can read McHale's article in:

Voice of Canada. No Blacks, Whites or Jews Allowed. . .February 5, 2012. The full citation for this can be found in the bibliography at the end of this post.
As McHale explains in the article, some members of the Jewish community have been following this issue with deep concern. In fact, representatives of the Hamilton-based Never Again Group, which defends Israel and fights anti-Semitism, have been present at events organized by the Caledonia activists.
"Ending Race-Based Policing: The Caledonia Act"
On February 9, 2012, Toby Barrett, the MPP for Haldimand County (which includes Caledonia), provided the Queen's Park Media Studio for the following people to make presentations about the topic "Ending Race-Based Policing: The Caledonia Act."
1. Gary McHale, Canadian Advocates for Charter Equality (CANACE)
2. Stuart Laughton, Never Again Group
3. Mary Lou Ambrogio, International Free Press Society-Canada vice-president
4. Kristin Kaye, Caledonia-based Regional News reporter
You can find out more about the event and presentations in the following entries at Voice of Canada:

Queen's Park news conference. . .February 13, 2012

Stuart Laughton. . .February 13, 2012

Mary-Lou Ambrogio. . .February 13, 2012

The full citations for the above entries can be found in the bibliography at the end of this post.
As Laughton says:
I want to stress that my group has made no opposition to the Natives who make land claims: we only protest the violent manner in which the claims to the Caledonia property were made and the racially skewed responses of the Ontario government. . .Will our next premier instruct police not to enter predominantly Muslim areas of our major cities, and allow microstates governed by Islamic Sharia law to flourish there? . .We also have to consider the effect that racially biased policing has on those Native Canadians, Tamils, Muslims, and others who ask for no special favours and want nothing to do with the more militant members of their community. Who speaks for them? . .Our citizenry consists of millions and millions and millions of individuals and those INDIVIDUALS are the ultimate minorities. Each of us has to be treated impartially before the law.
I completely agree with Laughton. I am generally very supportive of the need by aboriginals to lobby for their rights, and to receive just compensation with regards to property, social justice, and other issues of concern. But the events at Caledonia, in particular, have made me realize that the process of aboriginals lobbying for their rights can easily get sidetracked by those, like pro-Palestinian/anti-Jewish forces, who have an agenda that may not be in keeping with what all the people at Six Nations want.
Furthermore, what about the third of aboriginals who do not identify themselves as such in the federal census? Do they share the views of the Six Nations occupiers and their supporters? See my "Canadian Aboriginal Integration is Better than Assimilation or Parallelism" post for more information about this, and some related information.
Protecting the Rights of Individuals
One of the tests Mansur recommends for determining if a culture is of equal merit and deserves equal respect, is to see how the culture protects individuals (you can find a discussion of this in part one). The bottom line is, how well is the Ontario government upholding the rights of the Caledonia residents, and, indeed, the rights of the Six Nations residents who are not participating in the occupation?
"Caring Measures" More Important than Attaining "Stratospheric Rights"
Australian anthropologist and linguist, Peter Sutton, has more than 40 years experience with the Aborigines in Australia. His book, The Politics of Suffering: Indigenous Australia and the end of the liberal consensus (2009, 2011), is filled with many insights that I share. Marcia Langton, the Aborigine scholar who penned a foreword for the book, also echoes his concerns.
Sutton complains that too many politicians, lawyers, and activists insist that Aborigines will not be truly happy and fulfilled until all outstanding issues, such as social justice, treaty and reconciliation, have been met. He responds with ". . .[t]his unscientific mumbo jumbo beggars belief. . .Caring measures. . .rather than documentary measures based on increasingly stratospheric rights. . .lie at the effective end of realistic processes of improvement."
I do not know if Sutton is aware of the Caledonia situation, or if he has read and agrees with the concerns expressed in Mansur's book, Delectable Lie. Therefore, I do not want to imply that he shares the opinions expressed in this post. His words, nevertheless, resonate with me in terms of what I see is wrong, not only at Caledonia, but also what I often find is counterproductive regarding aboriginal policy development.
"Caring Measures" We Can Learn from the Six Nations Occupiers' Dog
CANACE videographer, Jeff Parkinson, took footage, entitled "CANACE attacked on DCE," of a February 18, 2012 hostile encounter between the Six Nations occupiers and non-native residents who were objecting to the occupation. You can find the video for this at:

Voice of Canada. McHale arrested. . .February 19, 2012. The full citation for this can be found in the bibliography.

As you will see if you look at the video, there was a lot of swearing, shouting and violence.

But photographer David Strutt was there, and was able to capture a more positive moment. You can find the photos for this at:

Voice of Canada. David Strutt photos. . .February 22, 2012. The full citation for this can be found in the bibliography.
This was when the Six Nations occupiers' dog welcomed Gary McHale. Vandermaas said: "[f]or this one moment all the hostility evaporated. David saw that the dog didn't understand hate; it didn't judge us [Caledonia activists] by the DNA running in our blood beneath our white skin. It just saw a friend. And David saw hope."
I think this dog can teach us all a few things about hope–and "caring measures."
A Way Forward
Here is a photo I took last summer, of a path in a park near my home: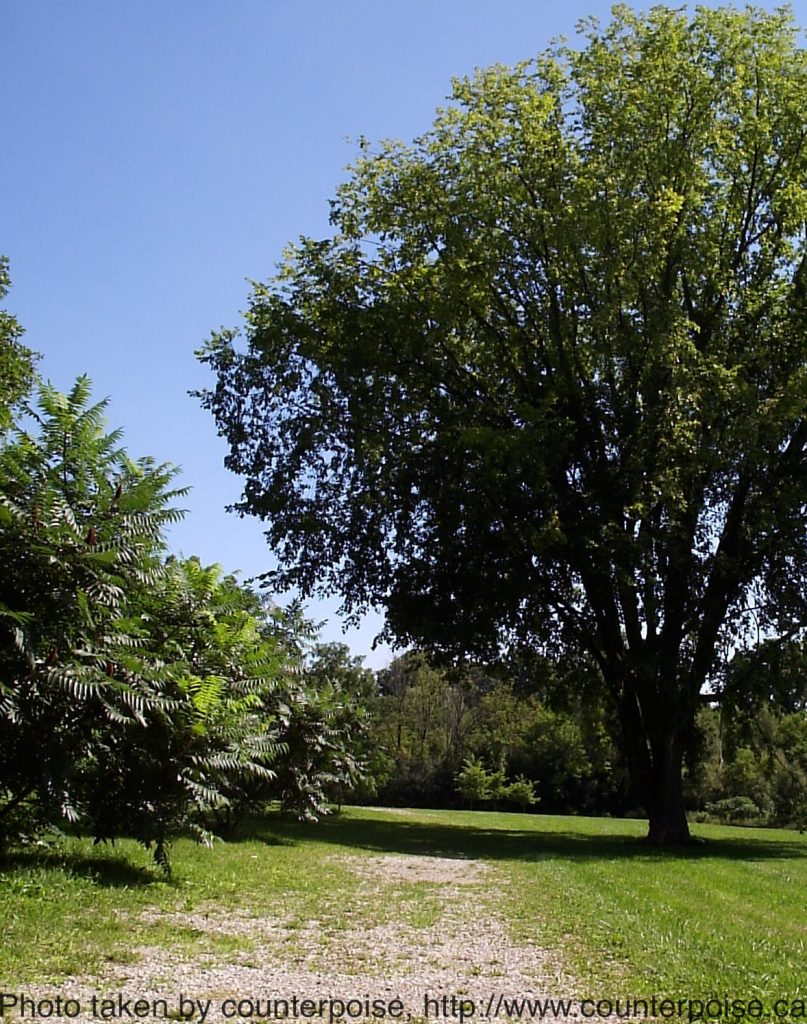 It reminds me of the fact there is always a chance we will pull ourselves out of this mess, that we will find a way forward to a more peaceful solution.
Bibliography

Blatchford, Christie. Helpless: Caledonia's Nightmare of Fear and Anarchy, and How the Law Failed All of Us. Doubleday Canada, 2010.

McHale, Gary. Victory in the No-Go Zone: Winning the Fight Against Two-Tier Policing. St. Catharines, Ontario: Freedom Press, 2013.

Voice of Canada. David Strutt photos: Caledonia 8 make history on Douglas Creek Estates in Caledonia, February 22, 2012. voiceofcanada.wordpress.com

Voice of Canada. Mary-Lou Ambrogio, International Free Press Society 'connects the dots' w/speech at Queen's Park Caledonia Act news conference, February 13, 2012. voiceofcanada.wordpress.com

Voice of Canada. McHale arrested in Caledonia because Native man assaults 77 yr old former Navy vet/UN peacekeeper and OPP officers, February 19, 2012. voiceofcanada.wordpress.com

Voice of Canada. 'No Blacks, Jews or Whites Allowed by Order of McGuinty" – by Gary McHale, February 5, 2012. voiceofcanada.wordpress.com

Voice of Canada. Queen's Park news conference – NGO's stand with Caledonia activists for release of Caledonia Act recommendations to end racial profiling, February 13, 2012. voiceofcanada.wordpress.com

Voice of Canada. Stuart Laughton, Never Again Group speech at Caledonia Act news conference: individuals are the ultimate minorities, February 13, 2012. voiceofcanada.wordpress.com