My mother, Jay Peterson, nee Fleming (1920-1976), possessed many talents, including being an artist.  In fact, she is listed as an artist in the "Index of Names of Artists and Art Supporters, 1830-1980" at the back of Nancy Geddes Poole's book The Art of London (1984).
One of the unusual things she did was to interweave her artwork into her scrapbooks, e.g., she pasted photos and ephemera onto a scrapbook page, and then added her drawings to the same page.
Jay Peterson saw a goat near Lake Louise, AB, 1939
In 1939, before she got married, she took a trip with her family (the Flemings) out West.  Here is her depiction of a goat she saw on the way to Lake Louise, Alberta, Canada.  This drawing is featured on the corner of one page of the scrapbook she kept for this trip.
Although she was born in Owen Sound, Ontario, she later moved with her family to Lewiston, New York, and then Niagara Falls, New York.  But a lot of her schooling took place in Canada.  For instance, she attended Bishop Strachan School in Toronto from about 1932 to 1937.  It is therefore not surprising that she decided to get married in the Bishop Strachan School Chapel on December 22, 1943.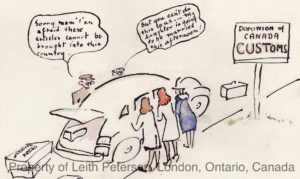 Flemings at Niagara Falls border, 1943
A drawing in another one of her scrapbooks indicates that her family had quite a time at the Niagara Falls border getting her wedding dress across.
In case you are having trouble reading the captions in this image to the right, I have typed the words out for you.  The caption on the left is for the Canadian border guard, who says "Sorry, mam, I'm afraid these articles cannot be brought into this country."  The caption on the right is for my Grandfather Fleming, who replies "But you can't do this to us–My daughter is going to be married this afternoon!'  On the bottom left of this image, there is a box with the words "wedding dress" written on the outside.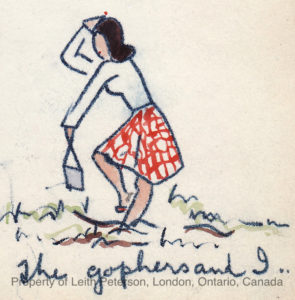 Jay Peterson in Saskatoon, SK,1944
After my parents got married, they initially lived in Regina and Saskatoon, while my father served with the Canadian Army Dental Corps.  My mother had an encounter with a gopher hole while in Saskatoon.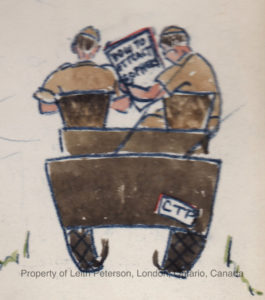 Charles T. Peterson in Dundurn, SK, 1944
The passenger in the army jeep is my father, Charles T. Peterson (his initials, "CTP," are on the bottom right of the vehicle).  He is reading an article on "How to attract gophers."  This image recalls the time when he was stationed at the Dundurn Camp in Dundurn, Saskatchewan.  I am assuming my mother drew this as a joke.
In 1947, my parents moved to London, Ontario, Canada, where my three younger brothers and I were born and raised.  Around 1961, my mother painted pictures of each of her four children on a wall in a back room of my dad's periodontal office at 281 Dufferin Avenue, in London.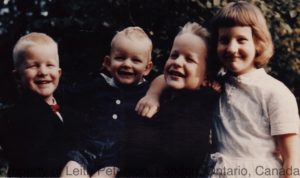 Chris, Don, Stu and Leith Peterson, ca. 1961
Here is a photo of the four of us from around that time.  Stu thinks this was very likely taken in the field in front of the family cottage at Leith, Ontario.  We are not sure who the photographer was.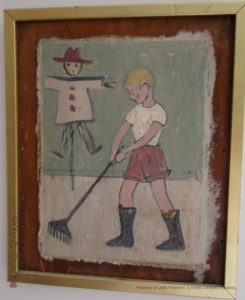 Jay Peterson's depiction of son Don, ca. 1961
My father retired, ca. 1977, and his office was torn down shortly afterwards.  But before it was dismantled, he cut my mother's four pictures out of the wall.  Stu remembers my father getting each picture individually framed.  The whereabouts of the two for Stu and Chris are unknown (Chris passed away in 2009).  However, I have the one for Don.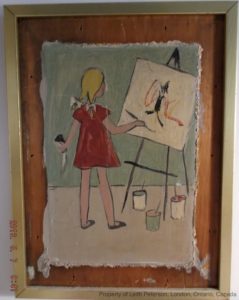 Jay Peterson's rendering of daughter Leith, ca. 1961
And the one for me.  It is ironical that my mother portrayed me as an artist because I did not inherit her abilities in this area.  But I think she would be pleased that I am channelling my artistic energies through my writing.  I am very glad that I have examples of her art and can share the images with my family, friends and associates.