In my December 14, 2013 post, entitled "'Cards of the Season – the Art of Jay Peterson' at the Ivey Family London Room, London [Ontario] Public Library," I explained that I had incorporated my late mother's Christmas artwork into greeting cards, and then mailed or hand delivered them before Christmas.  Have done this every year since 2010, but this post will feature the 2014 and 2015 artwork, which has not been previously published on this blog.
2014 Artwork
My mother, Jay Peterson (1920-1976), drew this depiction of her family enjoying a Christmas get together in 1942.  The reason I know this is because it is included in a binder of her projects, covering the period ca. 1935-1955.  As I understand it, she sent material to my late maternal grandparents as she produced it, and they added it to the binder (the scrapbook pages often include date notations).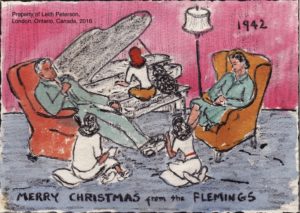 Jay Peterson (1920-1976) – Artwork, 1942
There is a partially coloured version of this drawing on the verso of the page where this drawing appears.  It includes the notation "Jay 1942 Dec."  Kay (my mother's sister) is at the piano (she was the only one of the three daughters who had red hair).  I think my mother is the one sitting near her father, and her sister Ellen appears to be ready to applaud by their mother.  I realize this drawing is not as refined as some of my mother's other work, but I like the message it conveys of a family enjoying each other's company during the festive season.
2015 Artwork
This artwork can be found in the same scrapbook as explained above.  My mother drew these rosy-cheeked carollers for a Chrimas "place card' in 1939.  The carollers are on a place card with the name "George" to the left.  Likely George was my Great-Uncle George Fleming (my maternal grandfather's older brother).  The original carollers artwork is only 1 1/2″ high x 1 1/8″ wide.  "Place cards at Xmas 1939" is handwritten on the bottom left of the page.  There are six other place cards on the same page, each with a different name and artwork.
Jay Peterson (1920-1976) – Artwork, 1939