Disclaimer: My references to the writings of other people do not in any way imply that they share my views on this manner.  The opinions expressed here are my own and do not necessarily represent those of my family, friends or associates.
Part Two – A            Jay Peterson's Shoulder Bag Carrier (Babi-Toter)
My mother not only invented the baby seat mentioned in Part One of Four of this series, she also created a shoulder bag carrier for infants.  This carrier was also called the "Babi-Toter."  Below is a 1953 photo of my father, Charles T. Peterson, with my brother, Stu Peterson, in the toter.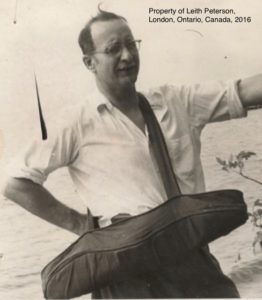 Charles T. Peterson, with Stu Peterson in toter, 1953
In May 1959, Chatelaine published an article about my mother's baby seat and shoulder bag carrier, entitled "Babies are meant to be near you."  This article, by Kae McColl, included a 1958 photo of my mother vacuuming, with my brother, Don Peterson, at her side in the toter.
My mother said in the Chatelaine article that she designed the chair and the carrier to keep her children close beside her.  I suspect she said this because I was the oldest of her four children and was notorious for taking off as soon as her back was turned.  Below is a photo of one-year old me, peering into the floor-level windows of an apartment building down the street from our home at 283 Dufferin Avenue in London, Ontario, Canada.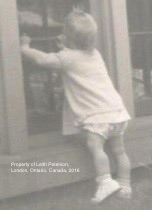 Leith Peterson "eavesdropping" on neighbours, 1953
Part Two – B            Jay Peterson's Babi-Buoy Invention and Banana Box Swing Adaptation
Part Two – B.1          Babi-Buoy
I do not know when my mother invented the Babi-Buoy, but she had definitely done so with the arrival of her fourth child, my brother Don Peterson, in 1958.  As she explained below, "it is not always easy to support a riggly [sic] baby and give him a bath."  [Spelling alert: she should have put "wriggly," not "riggly."]

Jay Peterson explaining reason for creating Babi-Buoy, ca. 1958
Her Babi-Buoy was a "small metal upside down toboggan covered with foam plastic (which can be used in bath or sink)."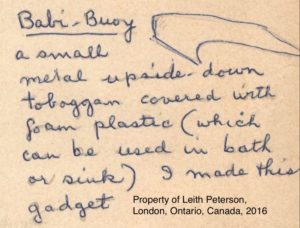 Jay Peterson explaining the Babi-Buoy, ca. 1958
Part Two – B.2          Banana Box Swing
Below is a circa 1958 photo of my brother, Stu Peterson, and I enjoying the elevated view in a banana box swing.
My mother probably got the idea for this swing from looking at a photo of people swinging in what appears to be banana boxes.  She wrote "Algerian" below the photo, so presumably the photo was taken in Algeria.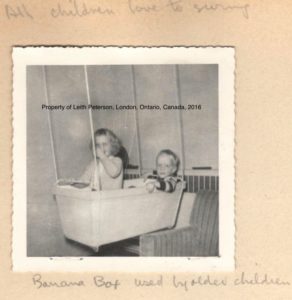 Leith Peterson and Stu Peterson in banana box swing, ca. 1958
Part Two – C            How Jay Peterson Got Her Ideas for Her Baby Chair and Baby-Toter
Mom acknowledged that she got her ideas for both the chair and the babi-toter, from researching how women had carried their children throughout the ages.  Her inspiration for the baby seat included devices used by the Hupas of Northern Calfiornia and the Ostiaks of Central Russia.
The creative spark for her baby-toter partly originated from her examining an over-the-shoulder carrier made by mothers in the Dodecanese island complex of Greece.  She also got design concepts from those used by Inuit, Cree, Korean, Guatemalan, Laplander and Nigerian mothers.
Although my mother looked into patenting her baby chair and babi-toter, she decided against it because she felt a business venture like that could take her away from her parenting duties.  She even provided instructions on how to make the chair and toter in the 1959 Chatelaine article previously mentioned.  I see this as yet another example of my mother "painting us all into it," as explained in Part One of Four of this series.  She saw her inventions as part of a timeless continuum of mothers taking care of their children in the best way they knew how.
Bibliography
May, J. (1958, November 6).  "Necessity Mother of Invention."  London Free Press.
McColl, K. (1959, May).  Babies are meant to be near you.  Chatelaine, pp. 108-109.
Peterson, C.T. (ca. 1970).  Peterson, Jessie Royce (Fleming) – "Jay Peterson,"  London, Ontario.  unpublished.