[This post was originally published on my MobileMe site, April 3, 2011. It has been updated with a bit of new information.]
[September 27, 2016: The "Peter Perch" section was updated with the names of the two individuals who donated two different baby seats to Museum London.]
Art Historian, Artist, Teacher, Writer, Occupational Therapist and Cultural Activist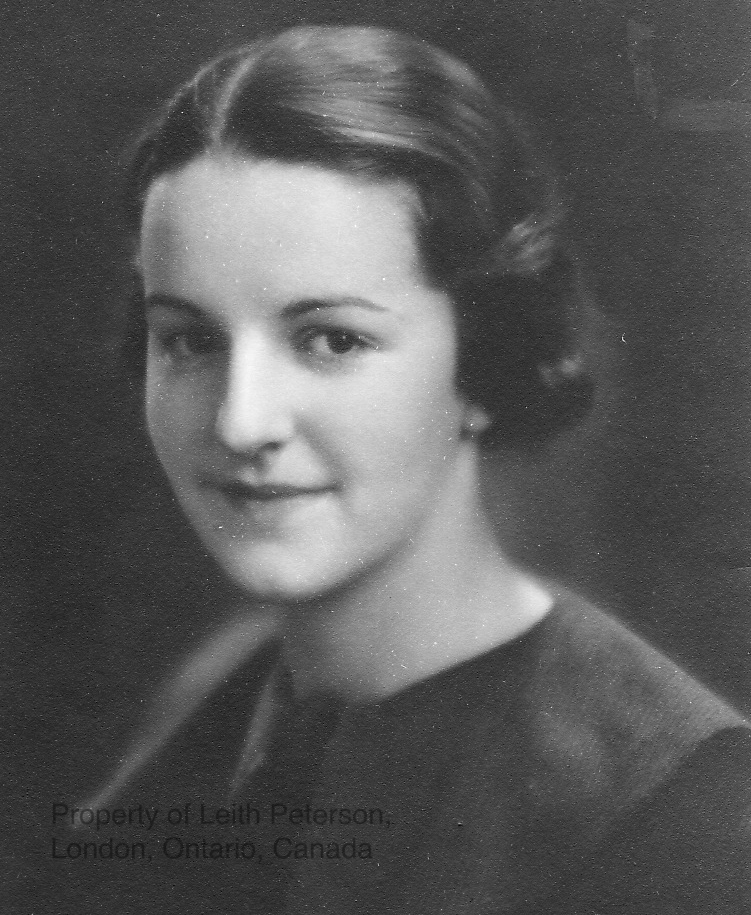 My mother, Jay Peterson, was born and raised in Owen Sound, Ontario.  Around the time she was 12, her family moved to Lewiston, N.Y., and later Niagara Falls, N.Y.  In 1941, she received her B.A. in Art History from the University of Rochester.  She returned to Canada and received her B.A. in Occupational Therapy from the University of Toronto in 1943.  In 1943, she also married my father, Dr. Charles T. Peterson.  The couple initially lived in Regina and Saskatoon, while my father served with the Canadian Army Dental Corps.  In 1947, the couple moved to London, Ontario where my three younger brothers and I were born and raised.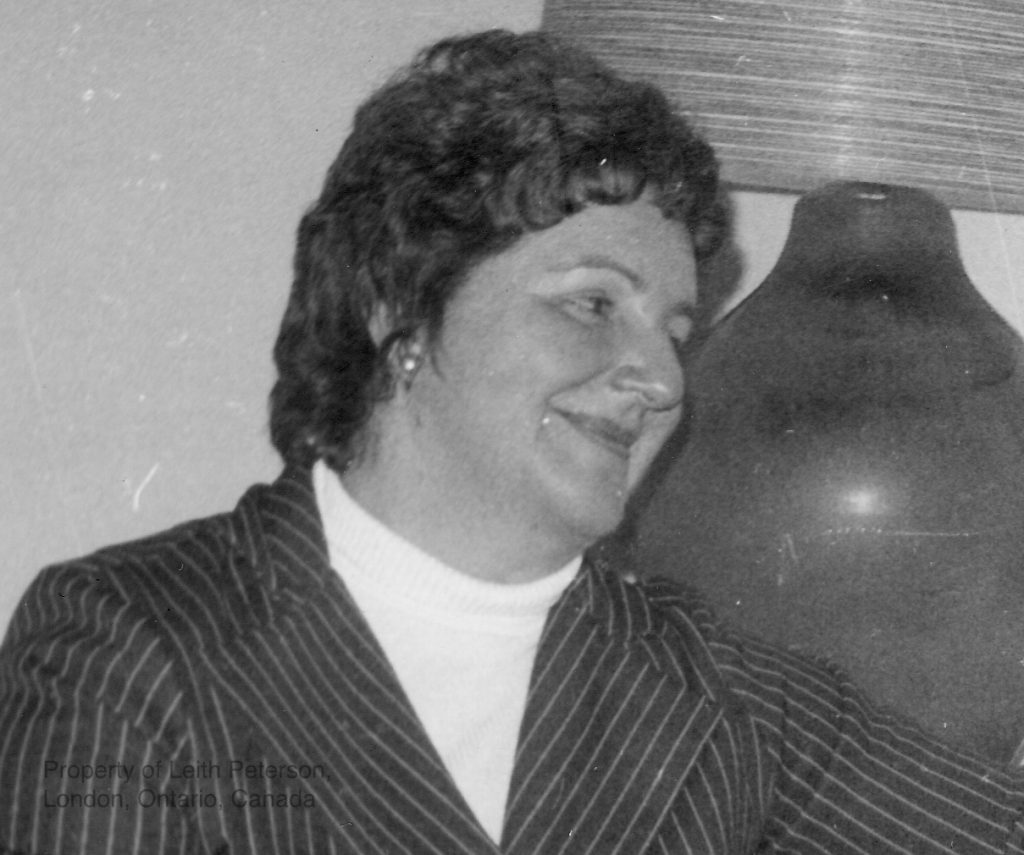 "Peter Perch"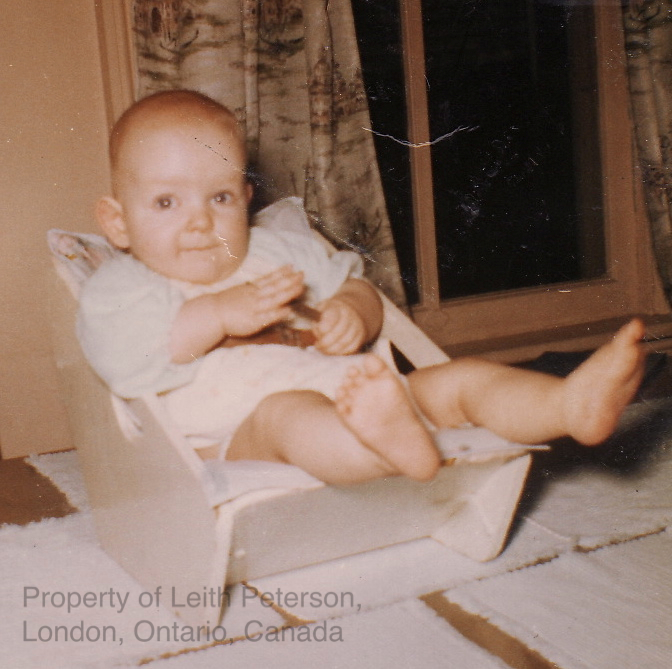 Jay was active with a number of London Ontario organizations, including the Service League of London. She invented a baby chair that was used as a fundraiser for the League from about 1958 to 1967. It was initially called the "Babi-Sitter," then the "Portable Baby Seat," but most people who remember the chair refer to it as the "Peter Perch." The chair was sent to scores of places in Canada, Switzerland, Italy, France, England, Bermuda and the United States.
An article about Jay and the baby seat appeared in Chatelaine magazine in 1959 and was also featured on CFPL-TV in 1958.
In June 2005, Museum London formally accepted a chair donated by Ed (Ted) Bartram. This chair was included with the Invention to Innovation exhibition at the Museum that ran from February to August 2007.
In June 2016, Museum London formally accepted a second chair donated by Catherine McEwen. This additional chair has slightly different features from the one donated in 2005.
Nativity Scene Artwork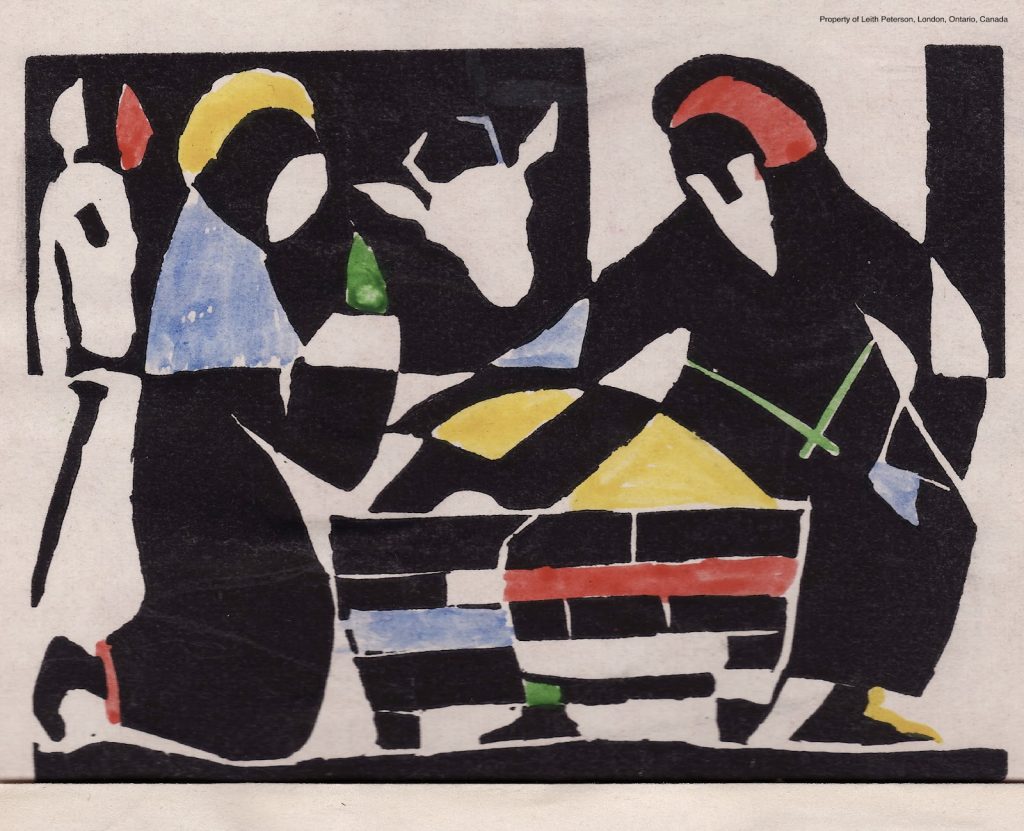 Jay Peterson created this artwork around 1953. The reason I know this is because it is included in a scrapbook of her artwork that I have. The scrapbook originally belonged to my maternal grandparents, and my grandfather marked in dates on most of the pages. I believe this nativity scene was originally to be used for dinner place settings, because the names of my grandfather and two great-uncles were on the bottoms of the three that I have. I cropped out the name on one of them, added the artwork to a template, and got the resulting work copied and printed as Christmas cards for 2010. Have had many compliments from the recipients of these cards.
"Moo Cow"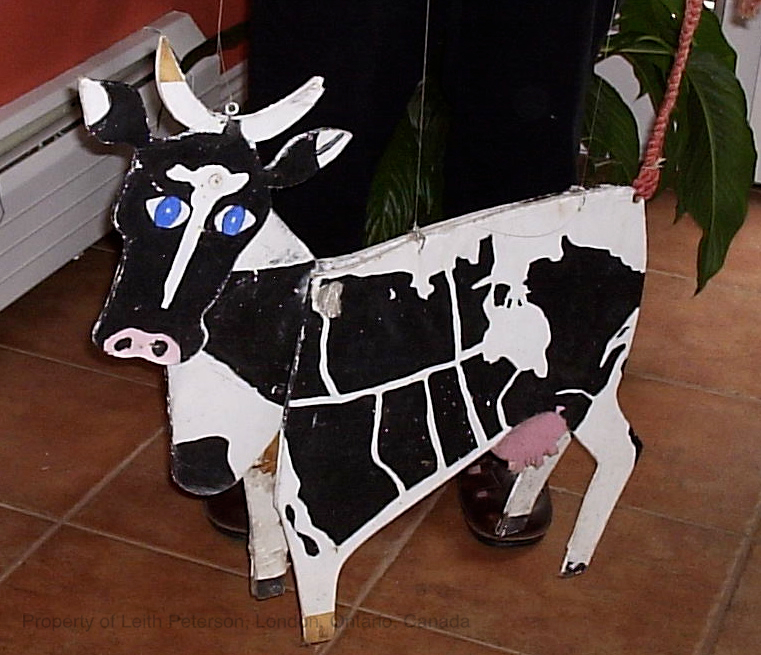 Jay was friends with playwright/poet James Reaney (1926-2008) and his wife poet Colleen Thibaudeau Reaney (1925-2012). In an article published by Theatrum in 1990, James Reaney referred to my mother as a "cultural pillar of the town." When Jay was on the board of the Western Fair in 1965, she commissioned marionette plays by Reaney and London artist Greg Curnoe (1936-1992). In 1965, Jay designed the marionette "Moo Cow" for Reaney's Apple Butter play, which was produced at the Western Fair that same year. "Moo Cow," along with most of the other marionettes from the production, is now housed at the Canadian Museum of Civilization. For more information about Reaney and Jay's Apple Butter collaboration, go to:
www.jamesreaney.com/gallery/puppets
Life Celebrated by Poem
Poet Colleen Thibaudeau (1925-2012) penned the poem that is on my mother's grave at the Leith [Ontario] United Church cemetery. The inscription is a fluid rendering of Thibaudeau's original version, which was a circle (shape) poem. The initials "MGB" stand for Marydel (nee Garretson) Balderston who did the calligraphy for the inscription. In 2005, Balderston passed away in her 91st year.
Inscription: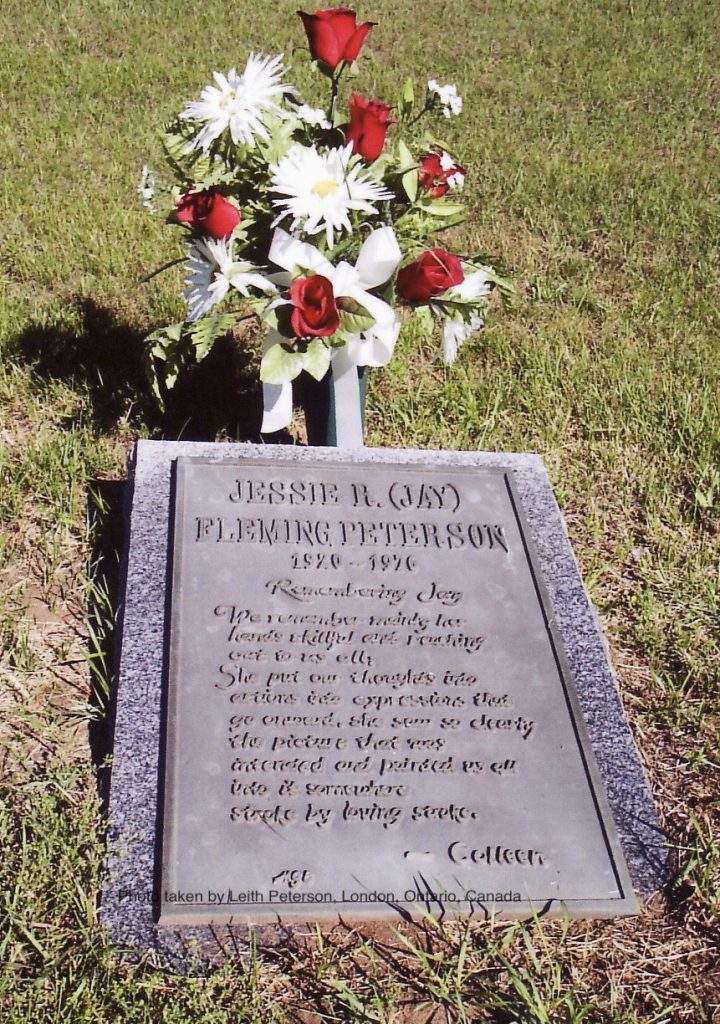 Jessie R. (Jay) Fleming Peterson
(1920-1976)
We remember mainly her
hands skillful and reaching
out to us all;
She put our thoughts into
actions into expressions that
go onward, she saw so clearly
the picture that was
intended and painted us all
into it somewhere
stroke by loving stroke.
~ Colleen
MGB